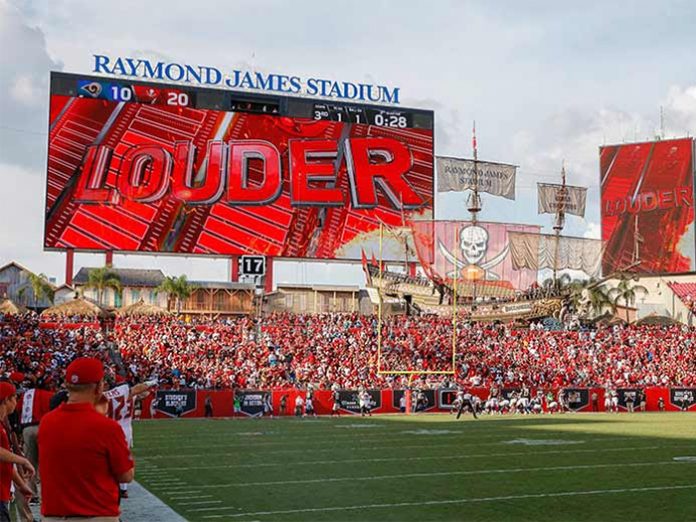 For the 17th consecutive year, professional football's championship game will be held at a venue featuring Daktronics products. As the lights shine at Raymond James Stadium in Tampa, Florida, on February 7, the biggest football game of the year will feature 14 LED displays totaling nearly 40,000 square feet of digital signage.
"Our technology being used at the big game is exactly why we're in business, whether that game is professional football's championship game or a child's first little league game," said Daktronics Vice President of Live Events Jay Parker. "This year, we're fortunate enough to be trusted with LED technology at football's big game for the 17th year in a row. It's also exciting that the game is at Raymond James Stadium, a great, long-time Daktronics partner."
While viewers see the main event, the Daktronics service team is on site long before the game kicks off. Leading up to the day of the event, event technicians and control room specialists are at the stadium to run pre-event checks and ensure the system is prepared for kickoff. Personnel will remain on site throughout game day to monitor the system and keep it operating as expected from an LED production standpoint.
"When our customers partner with Daktronics, they know they'll be getting the best service available in the industry, and this service will be on display Sunday in Tampa," said Daktronics Vice President of Services Sarah Rose. "We're proud to provide peace-of-mind for sporting events at all levels of competition with our services above and beyond the purchase of equipment and technology."
The home of the Tampa Bay Buccaneers has long been using Daktronics technology, dating back to Raymond James Stadium opening in 1998. The original system lasted 18 years until it was replaced in 2016 with 14 LED displays, all featuring 15HD pixel layouts. The stadium has used Daktronics technology to host two of professional football's previous championship games in 2001 and 2009. This year will be their third time hosting the big game.
The stadium features Daktronics Show Control, an industry-leading control system that combines display control software, video processing, data integration and playback hardware into a user-friendly and easy-to-use production solution.