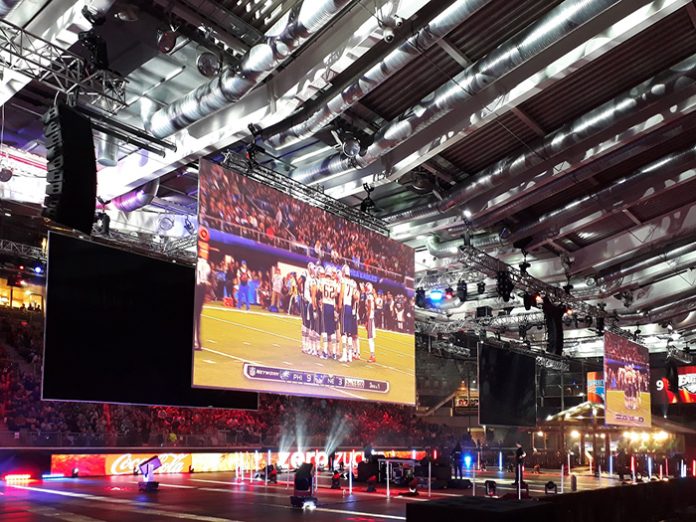 The Austrian private broadcaster PULS 4 celebrated Super Bowl LII as 'Europe's biggest Super Bowl Party' in the Vienna Albert Schultz ice rink in Austria, with more than 4000 sports fans followed the call during the night of 4-5 February.
The Viennese company Pro Performance was responsible for the entire sound concept of the Super Bowl Party. The long-standing Alcons distribution partner was supported by ils medientechnik from Leipzig, who under the management of Thomas Ils and Matthias Heilmann took over the detailed audio planning, supervised the network technology and managed the labour coordination. Also material disposition and logistics lay in the hands of the Leipziger. Uwe Biesgen from Creative Sound was on site for ils as system engineer.
The Super Bowl Party was amplified from both sides of the ice arena. A total of 54 Alcons pro-ribbon LR18 line array modules were split into 6 clusters (2x L / C / R), each complemented with 2 Alcons BC543 triple 18inch cardioid subwoofers per cluster. In addition, Pro Performance relied on 4 Alcons BQ211 compact 21inch subwoofers and 2 Alcons VR12 for DJ monitoring. For stage monitoring / cheerleading monitoring, 8 Alcons VR12s were used, and 2 Alcons VR8s were used for FoH monitoring. The sound system was powered by 24 Alcons Sentinel10 amplified loudspeaker controllers.
Celebrating a huge party in an acoustically demanding ice rink posed challenges for the audio team. Wolfgang Sauter, owner of Pro Performance, explained: "The seating ranking is not even on both sides in the Albert Schultz ice rink. While the rank on the right is continuous, it is divided on the left side by a walkable level in upper and lower rank. On the right side above the rows of seats are the VIP areas with acoustically critical glass fronts. In addition, we had to deal with a very wide area of over 60 meters, but we were able to cover excellently with the 90° dispersion to 20 kHz of the LR18."
Despite the adverse circumstances, the Alcons LR18 pro-ribbon line array system helped to achieve an even level distribution, sometimes at a very high level. "When 4,000 people scream with enthusiasm in an ice rink, it's really loud in there," added Sauter. "The extraordinarily high level of speech intelligibility inherent in all Alcons systems could again convince on this occasion."
Thomas Ils, Managing Director of ils medientechnik, added: "The sound system fully met expectations. We have achieved a very good speech intelligibility. The system has 'let go'. The result was an analytically unobtrusive, homogeneous sound without any listening fatigue – even at high ambient sound levels. "
"We would like to thank PULS 4 TV and the project managers for the fantastic event, the extremely professional and team-oriented environment, and last but not least for the great trust that has been placed in Pro Performance and the power of Alcons Audio's LR18 systems," Wolfgang concluded.