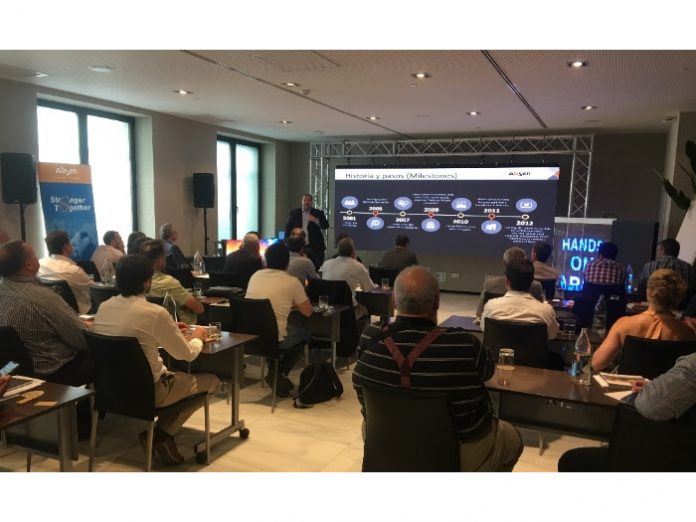 Absen Europe today unveiled the schedule for its 'Stronger Together' showcase events, taking place across 30 European cities throughout the summer. The events kicked off in Madrid and Barcelona (Spain), and will be followed by open days in Italy, France, UK, Belgium, Germany, Ireland, The Netherlands and Turkey. With further dates to be announced in Portugal, Poland and Sweden.
Further demonstrating its commitment to the European region, Absen invites current and prospective clients to gain insight into the latest in Absen's innovative LED display technologies. These events are also opened to rental stagers, integrators and distributors alike, giving them a unique opportunity to join Absen Europe's growing network of Value Added Partners (VAP) and Value Added Distributors (VAD).
Borja Janariz Sanchez, Absen Europe's Corporate and Retail industry director, commented: "We pride ourselves on being true partners to our valued clients. We know that these relationships are the backbone of our growing business, and key to our European success. Our commitment to being reliable and powerful partners in business is unwavering. We're excited to share our knowledge with our existing and future Partners by showcasing our solutions on the road this summer – giving clients the opportunity to get their hands on our comprehensive fixed install and rental staging product range."
With each event taking place over the course of one day, they will be attended by Sanchez alongside Absen Europe regional managers. Harnessing their collective expertise, the Absen Europe team will deliver key insights on the current status of the market and industry trends, as well as an overview of Absen's LED solutions and latest technologies.
The regional sales managers and sales teams for each respective region will also be in attendance at each event to support with client discussions and conduct demonstrations. They will also be on hand to showcase key products in Absen's range, including the new rental & staging Polaris Series, the award winning fixed install Acclaim Series as well as an introduction to Absen's control room dedicated CR Series.
Concluded Sanchez: "Spending time face to face with our clients is still so important. With these events, we look forward to discovering more about their businesses, as well as sharing the latest developments in ours – and introducing more businesses to our VAP and VAD programs and demonstrate how we can be stronger together."