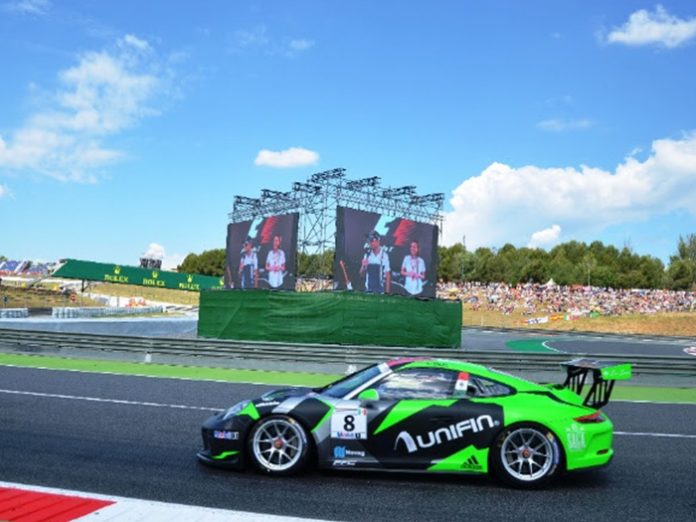 Having already won the tender to become official LED screen supplier to the Circuit de Barcelona-Catalunya, Absen's Spanish distributor Crambo, has recently supplied and installed a staggering 700 sq metres of Absen X5 LED panels, ahead of the MotoGP and Formula 1 Grand Prix seasons.
Absen X5 panels, the outdoor and all-weather-proof HD LED display with a pixel pitch of 5.2mm, are deployed as 10m x 5.62m displays around the racing circuit area and at the winners' podiums.
Crambo, an Absen Value Added Partner and provider of pro-AV solutions, was responsible for the smooth integration of the new LED infrastructure into Circuit de Barcelona-Catalunya. Juan Carlos Acerete, project manager at Crambo, explains the choice of product: "The Circuit was looking for the highest quality, at a truly contained price. Absen leads the pack in terms of innovation and quality and offers great and affordable pricing as standard.
He added: "With the sun shining directly on the screens during the races, LED is the only suitable option to display images and videos. At 5.2mm, the Absen X5 offers the perfect pixel pitch for most events and allows us to play with resolutions that are close to Full HD, as most displays in the Circuit measure 10m x 5.62m."
Outside the racetrack, the Circuit's conference and indoor spaces feature a combination of Absen A3 and M2.9 LED panels to provide image and video relay. Acerete describes the Absen A3 panels as 'all-terrain' and they feature heavily across the complex. He says: "They are ideal for most of the indoor events where high quality and high-resolution display is required."
The Absen M2.9 LED displays are situated in areas where the public is in close proximity to the display. Juan explained: "The resolution of the Absen M2.9 is perfect for close viewing. The result is absolutely amazing with crystal clear images."
Prior to the installation, a system of fibre optic cables was installed into the surface of the circuit. This readied the arena to transmit video at the highest possible quality – to over 20 television displays as well as screens of different formats, spread around the circuit and indoor areas.
Carried out by Crambo, the screen installation took only three days to complete, which is a tight timeframe to install over 700 sq metres of Absen X5, plus indoor screens. Absen's screen cabinets are designed for easy install: quick to assemble and equally fast to dissemble. The M2.9 is a perfect example of this ease of construction and can save rental stagers up to 50 per cent of time compared to a traditional LED panel.
Joan Thomas, Crambo's Catalunya and international director said: "We have found in Absen a flexible and reactive partner when facing challenges. In the world of rental, each event is different. With Absen, if we ever have any doubts about anything product- or installation related, we can always count on the support of an Absen engineer when we need it."
He concluded: "The customer is very satisfied. The combination of Crambo's expertise alongside Absen displays has resulted in a huge qualitative leap, not only in terms of resolution but also angles of vision, brightness and colour quality. For prestigious events such as the Formula One Grand Prix, and with such a large amount of screens required, it is critical to use the best technical equipment, and Absen X5 is instrumental to a perfect result."