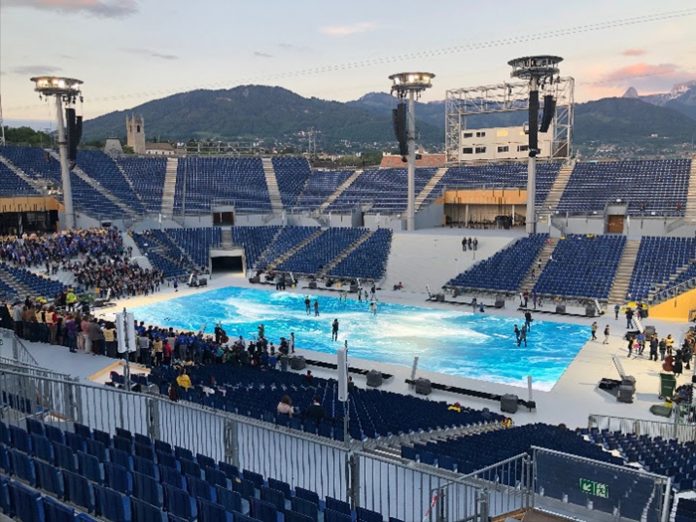 An event like no other, the Fête des Vignerons is held once every 20 years at a temporary stadium at the edge of Lake Geneva. The celebration, which features a vast troupe of performers donning elaborate costumes, as well as animals and vehicles, is held every day for a month to honour the winegrowers of the region, which stretches from Lavaux to Chablais in Switzerland.
This year's event also received a technological boost in the form of a gargantuan LED floor from Absen subsidiary VISS Display, provided by rental house, Alabama.
As two decades have passed since the last Fête took place, the 200-strong technical team had to ensure that the 2019 edition lived up to expectations, as well as demonstrating the best of the last 20 years in live event technology.
After the installation of the first technical elements in May 2019, the project evolved for budgetary reasons as well as from a creative perspective to guarantee it was in line with the vision of artistic director, Daniele Finzi Pasca – the designer behind the Olympic Games opening and closing ceremonies in Turin and Sochi as well as some Cirque du Soleil productions. To allow the technical team to understand the key themes and narrative, workshops were carried out alongside event organiser, Confrérie des Vignerons.
The product was co-developed with Alabama, which supplied all video equipment for the arena. As well as covering almost the entire floor area with outdoor LED, the company supplied 150 sqm of Absen AT5 Pro outdoor LED screens in the form of columns at the top of four stages; provided a visual technical control system based around Barco's E2 system and several Smode media servers; and installed a camera system and return monitoring to ensure a smooth running show was delivered to all screens.
Headed up by Alabama's CEO and project manager for the Fête des Vignerons, Dominique Lassarat, the process of developing the product involved creating LED technology that would guarantee images could be clearly seen even during performances taking place in daylight as well as offer controlled electricity consumption.
"A horse managed to crack the concrete floor around the edge of the LED floor which stayed intact. This really shows how durable the product is."
Around the edge of the stadium, 200 panels of the Altair AT5 series – Absen's 5.5mm, 4,500 nits ultra-lightweight touring LED – displayed content which complemented or mirrored the visuals on the floor or close-ups of performers. The product was selected in part due to its Common Cathode Technology which requires low power, offers low heat dissipation, high refresh rates and reduces pixel failure. Alabama worked alongside Absen once again during the R&D stages to ensure it was strong and light and helped develop a back frame to speed up rigging.