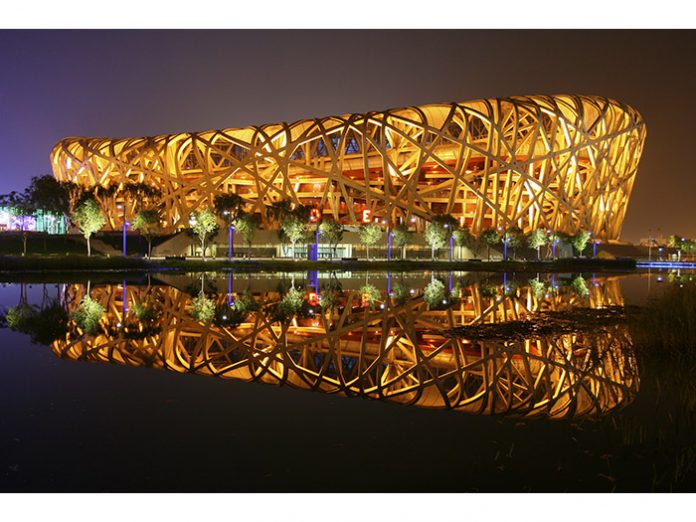 Taiwanese artist Huang Guolun recently brought his "No Impossible" show to China's Beijing National Stadium, better known as the Bird's Nest from the 2008 Summer Olympics' opening ceremonies, and it was an expansive system comprised of Adamson's E-Series and S-Series loudspeakers that ensured high-quality, even sound coverage for every seat.
Yongjun "Park" Li of Le'er Culture & Art Studio was the system designer and FOH engineer for the performance at China's largest stadium – with a capacity of 80,000 – and explains that his choice to deploy Adamson for both the main house system and the delays covering the upper bowl was based on a few key factors.
"Adamson's E-Series is very widely applicable, from studios and theatres to major indoor and outdoor stadiums, and I've found it excels in any application," shared Yongiun. "The E-Series has an incredible throw, with smooth highs, powerful mids, and low end that seemingly has infinite power. The system is very dynamic; it feels like there's always power to spare, even in productions of this scale."
Sourced through Adamson's Chinese distributor, Real Music, Li's system included main hangs of 18 E15 three-way, true line source enclosures per side, plus eight flown and eight ground-stacked E219 subwoofers per side. An additional 15 E15s per side were deployed as side hangs, and small complements of four E12 three-way, true line source enclosures handled both front infill and outfill on each side of the stage.
Additionally, eight arrays of between 9-12 S10 two-way, full range enclosures were flown from the roof overhangs to cover the entirety of the upper bowl. "Both the pleasing look of the speakers and their very straightforward rigging design, as well as their low weight, made this project very easy and quick to install, which was very important considering the size of the venue and production," added Yongiun.
"We've been very pleased with the way Adamson has been adopted for major events, tours, and venues throughout China, and now that includes a system in one of China's largest stadiums – and one of the most famous in the world," said Real Music's Owner, Zhen "Richie" Wang. "We look forward to serving many more world-class clients with world-class solutions from Adamson going forward."