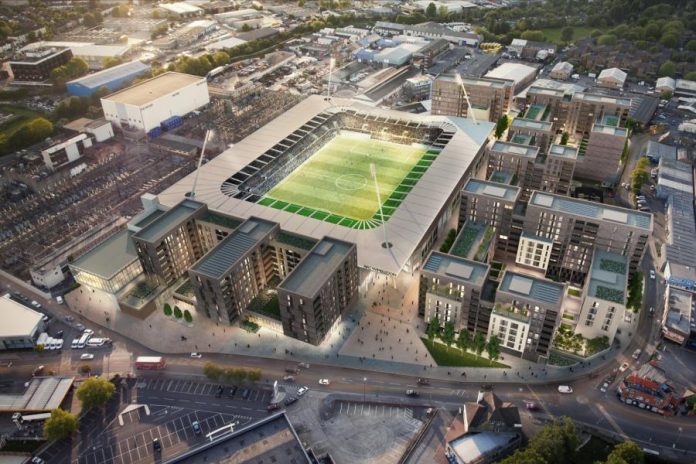 AFC Wimbledon are officially getting their new stadium after representatives from the club, along with Merton Council and GRA Acquisitions, signed the Section 106 agreement to clear the way for the new ground.
The official decision notice was handed to AFC Wimbledon's Chief Executive, Erik Samuelson, which means that work can now start on the new stadium in Plough Lane.
The new development will deliver a 11,000-20,000-seat football stadium to the area, as well as 602 new homes, retail space and a squash and fitness club, bringing economic benefits to the area in south west London. AFC Wimbledon and GRA Acquisitions will also invest over £1.5million into local health provision and transport improvements for local bus, road and cycle network. This will result in construction jobs being created, along with long-term employment for the area once the facilities are all open.
Erik Samuelson said: "Everyone in football knows the story of how AFC Wimbledon came into being.  A group of fans started with nothing; no ground, no team, no manager, no players and no kit.  Now, fifteen years later, we've taken a giant step towards going home to Merton, in a new stadium and as a Football League club. This is a momentous day for us.  Everybody who has helped the Club to reach this point must be very proud.
"On a personal note I want to say a particular thank you to Andrew Williams, our Project Manager, and partner Daniel Norris of law firm Hogan Lovells, who did all the hard work in the background.  I and the club are massively indebted to them."
Leader of Merton Council, Councillor Stephen Alambritis said: "After a long journey, this is a proud moment and a historic moment for Merton. Our experienced planning officers have spent a great deal of time and effort to ensure this exciting development will benefit both the greatly loved club AFC Wimbledon, as well as Merton and the many families and fans who live here.
"It has been a pleasure working with the club since we granted the planning permission in 2015. I look forward to seeing the stadium and housing become a reality over the coming months and can't wait to see the first game. Welcome home, AFC Wimbledon."
Dons Trust Board Chairman, Matthew Breach, said: "This is another major milestone towards the rightful return of Wimbledon's football club to Wimbledon and represents the result of years of hard work to finalise a complex deal."