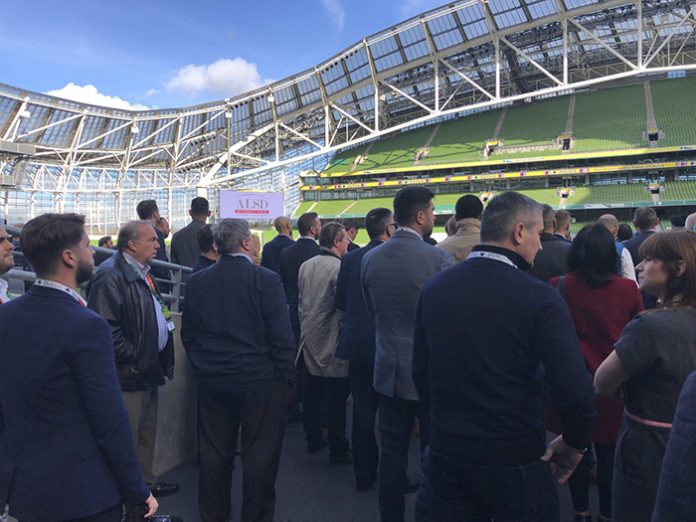 The 2019 edition of ALSD International welcomed more than 270 high-ranking, decision-makers from clubs & teams, stadia & arenas, sports & entertainment venues, leagues & federations, architecture, design, engineering & fit-out firms, as well as producers & suppliers.
Attendees began their experience with a very special behind-the-scenes tour of 3Arena, one of the Top 10 busiest arenas in the world, followed by an Opening Luncheon at Aviva Stadium, the joint home of the IRFU and FAI, where Real Mallorca CEO, Maheta Molango, gave a Keynote discussing how the newly-promoted LaLiga side has transformed itself and its fortunes both on and off the pitch.
On return to the event's host venue, Croke Park – the 82,300-seat home of the GAA and the third largest stadium in Europe – the conference got underway, kicked off with a Welcome Speech by MC, Nicholas Brice of 360 Degree Vision, followed by a session entitled "Renovate with Success: The ROI of Venue Renovations" and a detailed "State of the Industry" presentation by Rob Hunden of Hunden Strategic Partners (HSP); which assessed more than 400 sports facilities worldwide, and highlighted how there are more than 30 major new stadiums predicted to open in the 2020's, with US$5bn+ in 'currently underway projects'.
Other conference sessions saw experts discuss "Growing the Revenue Stream", "A Collaborative Approach to the New Tottenham Hotspur Stadium", "Re-defining Premium Experiences at Wembley Stadium through Design", "The Customer Experience & The Role of Technology" and "Giving Up Cash with RSC Anderlecht: Sponsored by PlayPass".
Day 1 was rounded off in style with an Evening Networking Reception, held in the Exhibition Hall, which gave attendees the opportunity to meet with the exhibitors, speakers, sponsors and other delegates, and even enjoy a spot of Irish dancing, along with a few pints of Guinness.
Day 2 kicked off with a Networking Breakfast and behind-the-scenes tour of Croke Park, before the conference re-commenced with an opening session from Nicholas Brice, who took attendees through the key trends and leadership practices driving the hospitality performance at Brighton & Hove Albion's American Express Community Stadium and the new Tottenham Hotspur Stadium – experiences that are winning a raft of industry awards and top of the league customer experience performance.
This was followed by a Keynote from Marshall Glickman, CEO of G2 Strategic, who discussed adapting US-inspired business practices & fan engagement strategies to European cultural, historic & economic realities; during which he referenced his work with EuroLeague Basketball and LaLiga.
Other Day 2 sessions included: "Setting Up Your Premium Marketplace"; "The High Tech, High Touch Venue"; "Creating a Menu that Separates the Premium Customer from General Admission"; "Innovations in Payment & the Impact on Stadia sponsored by KAPPTURE"; "Top Successes in Sponsorship Activation"; "The Future of Premium Seating"; "The Big Event: How to Truly Maximise Your Value" and "Assessing Innovation: What's Right for Your Venue".
Overall, attendees benefitted from not only a comprehensive conference program, but also an exhibition hall showcasing the latest innovations, products, technologies and solutions, as well as unrivalled opportunities to network, learn and do business, not least due to the one-on-one meetings ALSD International staff arranged ahead of the event.
The aim moving forward is to transform ALSD International from a once-a-year event to a 365 community, allowing members to knowledge-share, pose questions, advertise RFP's, job news, share venue development news, enjoy informal get-togethers, etc. Filmed roundtables and webinars, as well as video interviews with members, will all be conducted throughout the year, ensuring members are kept abreast of the latest trends and developments within the Premium Seat and Hospitality sector.