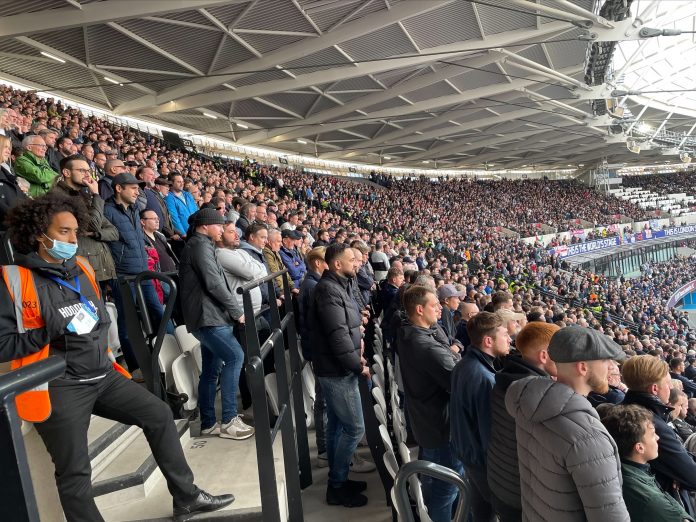 Arena has installed the first of the company's new bespoke safety rail systems into London Stadium, home of West Ham United. It is already being used across all football fixtures at the venue, including Europa League, Premier League and League Cup matches, making the stadium early adopters of wider UK initiatives taking place at a number of Premier League grounds this season.
Arena's conversations with London Stadium and the Sports Ground Safety Authority (SGSA) began in 2020, borne out of concerns over persistent standing in certain areas of the stands. Arena's specialist seating division applied expertise, drawn from many years designing and engineering grandstand stadium solutions, to develop the new modular rail system, with core components that can be adapted to suit any venue.
Following an open tender process, Arena was contracted to install safety rails for more than 3,000 spectators, in a positive move to ensure a safe experience for football spectators at the venue.
Alan Skewis, Head of Capital Projects at London Stadium, stated: "When drawing up our specification it was clear that an off-the-shelf product would not work. Arena understood that all stadia are different, so we are delighted with the bespoke design that reflects the venue's elliptical nature, seat rake and loading requirements. Arena worked with us to deliver an efficient, effective solution that meets our needs and enhances the spectator experience."
Sherif Harding was Arena's Project Manager, who considered key factors including the existing rake, substrate materials, comfort issues and sightlines for all spectators, before arriving at a suitable, safe solution. He explains: "Having worked across multiple stadia, there is clearly no 'one size fits all' solution when it comes to introducing safety rails. Not all areas of any given stadium will be suitable, (possibly due to dimensions or material conditions), but there can often be particularly 'lively' areas that would make the introduction of a standing rail system desirable. 
"We have developed a core product, which underwent static and dynamic testing, so we understand its capabilities and limitations. The Arena system can be adapted to suit the nuances within an existing grandstand, which can vary considerably depending on the age and design of the structure. We will then recommend a suitable system design and installation process. No two solutions are likely to ever be exactly the same." 
The re-introduction of a safe standing environment is also seen as a key step towards improving fans' matchday experience, which has become a point of contention between fans and clubs.