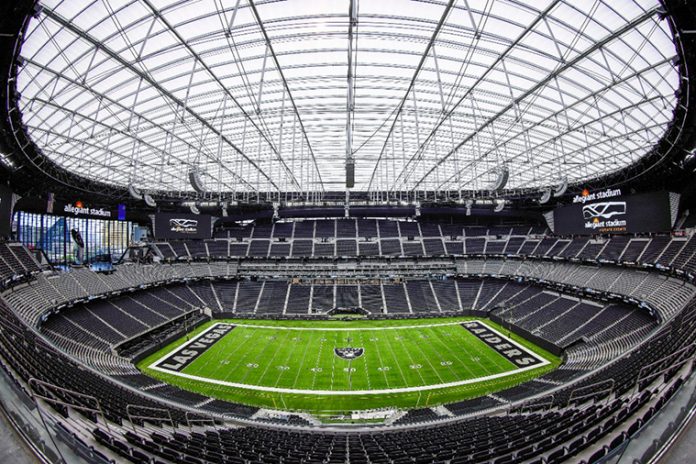 The NFL's "Voice of the Fan" survey representing millions of fans who have attended games at the NFL's 30 stadiums has ranked ASM Global-managed Allegiant Stadium as the country's top stadium for gameday satisfaction.
The win, based on "driveway-to-driveway" ratings, queries ticketholders on topics ranging from stadiums' handling of traffic, parking management, security screenings, quality of food and beverage, video production, and overall guest experience.
Doug Thornton, ASM Global executive vice president, stadiums-theaters, said, "We've really enjoyed being a part of the Allegiant team since its infancy. It's rewarding that our experiences with a portfolio of stadiums and arenas around the world have translated so effectively for Raider fans at Allegiant."
"Delivering the best gameday experience possible to the Las Vegas community is our top priority," said Dan Ventrelle, president of the Las Vegas Raiders. "We are proud that Allegiant Stadium delivered on that promise this past season and focused on continuing to enhance the gameday experience to maintain the top ranking."
The No. 1 ranking of Allegiant marks the fifth "Voice of the Fan" win in the past eight years for an ASM venue. TIAA Bank Field in Jacksonville garnered the top perch in 2014, and Caesar's Superdome was voted first for three consecutive years, 2017-2019.
ASM's reach in the world of sports alone includes 12 Super Bowls, nine NCAA Men's Final Fours, nine College Football Championship games, five WrestleManias and 17 professional teams at its venues.
Thornton said, "ASM prides itself on developing and operating the best venues in the country coupled with best-in-class knowledgeable local management. We are humbled to have this stadium and our hardworking team at Allegiant honored in this way."
The company's more than 20,000 live events across sports, entertainment and business categories are supported by 61,000 employees worldwide with an unparalleled portfolio that features 25 stadiums, 109 arenas, 87 convention centers, and 79 theaters and use facilities.