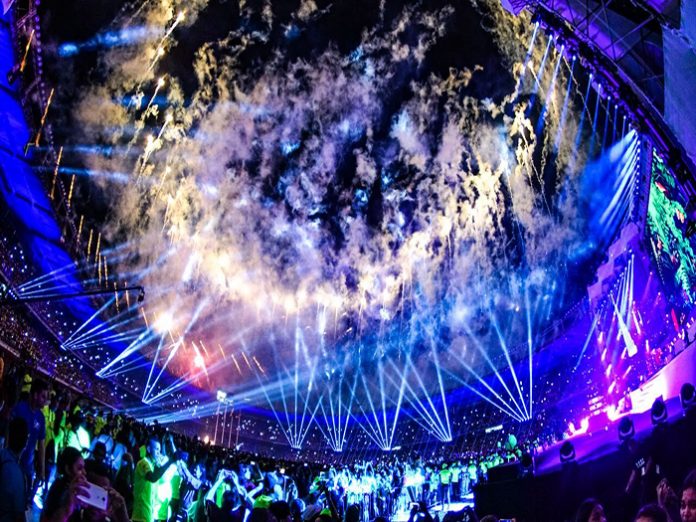 The 2018 Central American and Caribbean Games (CACG) kicked off with a spectacular Opening Ceremony at Barranquilla's Roberto Meléndez Stadium, featuring projection mapped visuals to the stadium pitch and huge LED screens using Avolites Ai RX8 servers.
The Opening Ceremony's most famous performer was Latin superstar Shakira, who was born in the Games' host city.
During the ceremony, the 47,000-capacity crowd experienced a video concept based on a story of time travel from the future to the present, offering a unique perspective of Barranquilla, which highlighted local culture, folklore and its vibrant music scene. The Opening Ceremony was produced by Victor Ariza from Performa SAS. Miguel Carrillo from Foro IQ designed the stages.
The main stage was backed by video-mapped content, displayed on a 664sqm LED screen.
"We needed to manage a lot of pixels for this project, six outputs for mapping and six outputs for LED screens, DMX and SMPTE control, and direct SDI outputs," said Victor. "We needed a server that had all of these things, and features like the option to quickly warp the geometry of the outputs – and be robust and trustworthy.
"But perhaps most importantly, we were looking for customer service and support. Machines are machines – it's the people that define a brand's success."
Fernando Albanés served as Technical Director for Performa: "We could find all the technical specifications we required in the Ai RX8 and SDI output card. The RX8 was the heart of the video system – a machine that you can trust is robust and reliable and has everything that you need to do a great show.
"But Victor is correct, when we started to work on this project, we dealt with Avolites' South American Sales Engineer, Francisco Yáñez Valdivia, Koy Neminathan at Avolites' London office, and Javier Pastor, and it was amazing. Everything was fluid, we had training on-site and support for the opening. Avolites' Maciej 'Magic' Siedlecki was in charge of this part and it really was great to have him on board. I would like to thank Avolites, Performa SAS and Foro IQ for their help in making a great show."
Nearly 6,000 athletes participated in the CACG, across 40 sports and 470 events.
A statement from the Games' organisers said: "These Central American and Caribbean Games will leave a valuable legacy for Barranquilla… the high-class sports venues built the wonderful Opening Ceremony that Víctor Ariza's team prepared infrastructure and jobs."