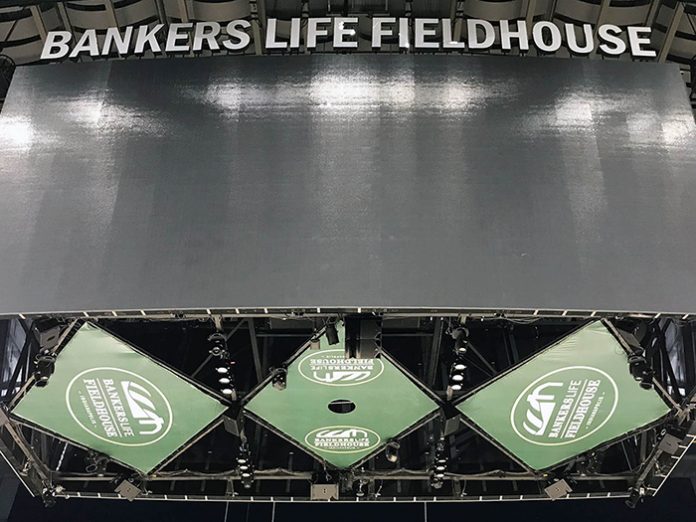 To capitalise on the buzz of the Bankers Life Fieldhouse, the Indiana Pacers organisation turned to Randy Skaggs at Village Audio for innovative ideas on a high-energy system with low visual impact.
The criterion was threefold: Complete courtside coverage on all sides, down-firing court coverage, and all speakers must be self-powered. No simple task considering the high intelligibility to cover the public seating areas and courtside along with zone isolation from the court.
Randy, aware of its remarkable capabilities, looked immediately to the Clair Brothers kiT Series for a solution. The kiTCurve, with its 90° H x 15° V coverage pattern, performed solidly for the short throw to the long sides of the court, but Randy recognized that something more directional was needed to project to the far court corners; and for that he sought a TrueFit – another breakthrough Clair Brothers concept.
Clair Brothers and Village Audio collaborated to study the speaker positions and coverage angle requirements. They determined that indeed a custom dispersion on the scoreboard corners could offer better coverage with minimum overlap to other sources. A separate zone was created to cover the court itself and consists of the point source twelve-inch member of the Clair Brothers kiT Series – the kiT12.
Randy concluded: "I've had a great track record with Clair Brothers and learned about the TrueFit concept when they demoed the kiTCurve version at InfoComm last year. For the Bankers Life project, the minute details mattered and were vital to finding the right solution. The fact that Clair Brothers can deliver customised solutions (and relatively quickly too) is an undeniable asset. The team at Bankers Life Fieldhouse is thrilled with the result, as are we!"
Though the 2017-18 NBA season has ended, with an extra boost from Clair Brothers, the Indiana Pacers are set to rock Bankers Life Fieldhouse and make it deep into the playoffs in 2019!