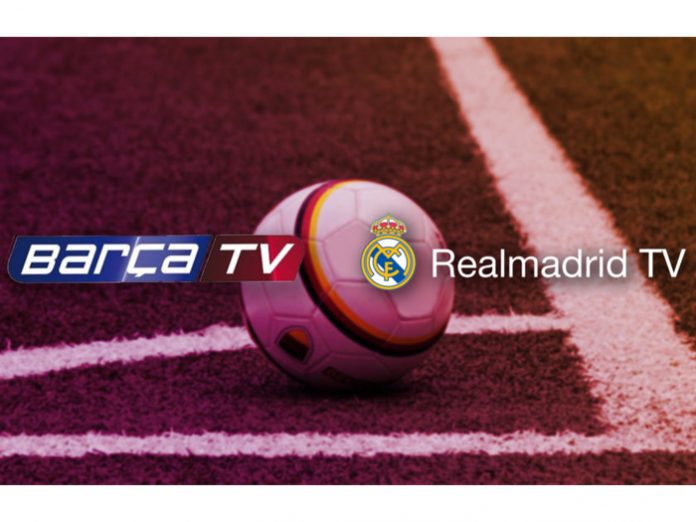 AVIWEST, a global provider of video contribution systems, has announced that Barça TV and Real Madrid TV, two world-famous television sport channels, are relying on the AVIWEST PRO3 Series bonded cellular transmitters and the StreamHub transceiver to broadcast live football training sessions and related content.
AVIWEST's PRO3 Series and StreamHub solutions were supplied by NRD Multimedia, the company's master distributor in Spain. Robust and portable, the PRO3 field units enable Barça TV and Real Madrid TV to offer fans exclusive and appealing content, including live pre- and post-match coverage, real-time interviews, and locker room discussions.
"Providing high added value live content is key to keeping audience tuned in," said Albert Reverter, general manager of NRD Multimedia. "By having lightweight and compact equipment, TV channels can move freely and be at the heart of the action, never losing out on any important situation. The AVIWEST solution is the perfect tool, offering security, affordability, and broadcast-grade live streaming, even in congested network environments such as stadiums."
Offering a camera-mount or backpack solution, the PRO380 synchronously backhauls multiple live feeds with perfect genlock and lip sync for multicamera, remote, and at-home productions. With up to 12 network connections, including eight 3G/4G internal modems with patented high-efficiency custom antenna arrays, the PRO3 Series makes it easy for sport journalists to conduct live interviews and reports with flawless HEVC-Advanced encoding.
Leveraging AVIWEST's double Emmy® Award-winning SST protocol, the transmitter series ensures reliable delivery of live video by simultaneously aggregating multiple network connections.
"AVIWEST is extremely proud to be counted among the technology partners of such outstanding and world-class sports teams," said David Jaouen, Vice President of Sales, EMEA – Americas, "The robustness and compact nature of our product made the critical difference in the decision to deploy our solutions, while the strong relationship we have with our partner NRD Multimedia means customers receive a level of professional service that meets all of their requirements."
AVIWEST's StreamHub receives and decodes all incoming live video feeds sent by Barça TV and Real Madrid TV cameramen in the field. Supporting multiple output formats and featuring an intuitive web user interface, StreamHub allows video content to be freely and easily distributed over virtually any IP network to any social media platforms, CDNs, media servers, and streaming platforms.