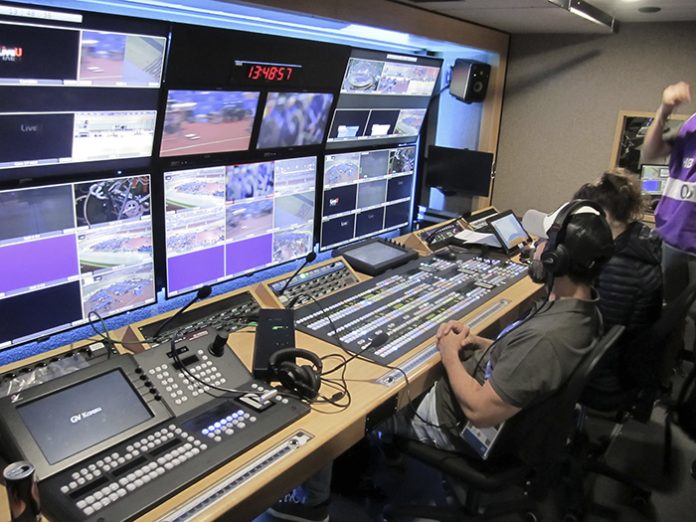 With host broadcaster ISB looking to raise its production capabilities and deliver stunning live-footage, four new mobile production sets from public broadcaster Belarus TV were deployed at the recent European Games 2019 in Minsk. Broadcast Solutions recently delivered all production tools to Belarus TV.
With 15 sports attracting more than 4,000 participating athletes, the European Games is one of world sports' largest competitions. ISB was appointed the main contractor, producing the world feed from the Belarusian capital Minsk.
ISB's mobile production called on Belarus TV's mobile production resources to cover the opening and closing ceremonies and the event's most important games, including OB Vans and support vans. Belarus TV deployed the flightcase studios for the unilateral signals. All of the OB Vans are newly commissioned and were developed and delivered by German system integration company Broadcast Solutions at the beginning of this year. During the Games, Broadcast Solutions provided production support with dedicated specialists that monitored the production and technology.
"We are very happy to support ISB producing the TV-programme for one of the most prestigious sports events that took place in Belarus so far, especially as a Belarusian company," said Alexey Washjurine, Deputy CTO of Belarus TV. "ISB's trust in our teams and the newly acquired production tools validates our decision to invest in mobile production tools from Broadcast Solutions. During the event the OB Vans worked smoothly and Broadcast Solutions' support on-site was just perfect."
Each mobile production set comprises an 18-camera HD OB Van, a four-camera HD flightcase studio and a support vehicle. All four OB Vans have an identical design and work as 20-ton semitrailers with two extensions and up to 18 cameras operating in HD – two wireless, two SuperSlomo and 14 standard HD-cameras.
Onboard the OB Vans is a selection of Grass Valley cameras, vision mixers, video routers, multiviewers and slow-motion servers. The audio relies on Calrec Audio broadcast consoles and audio routers. IHSE KVM systems secure access to computers and workstations, and the intercoms are based on Riedel Artist systems.
The flightcase studios also employ Grass Valley cameras, with FOR.A vision mixers and Ross Video routers. Yamaha mixers manage the audio, with KVM systems from Guntermann & Drunck.
For orchestration within the OB Vans and flightcase studios, Belarus TV opted for Broadcast Solutions' proprietary control system, hi – hi controls all production-relevant areas in the vehicles such as video routers, multiviewers, audio routers and tally. Intuitive touch controls and newly developed hi hardware controls simplify day-to-day production operations in the OB Vans.
The European Games are an international multi-sport competition among athletes of the European continent held every four years under the direction of the European Olympic Committees.
The 2nd European Games, hosted by the Belarusian capital of Minsk, comprised 15 sports, eight of which provide qualifying status to the Olympic Games 2020 in Tokyo. Competitions in boxing and judo were held in the European Championships status. A total of more than 4,000 athletes participated.