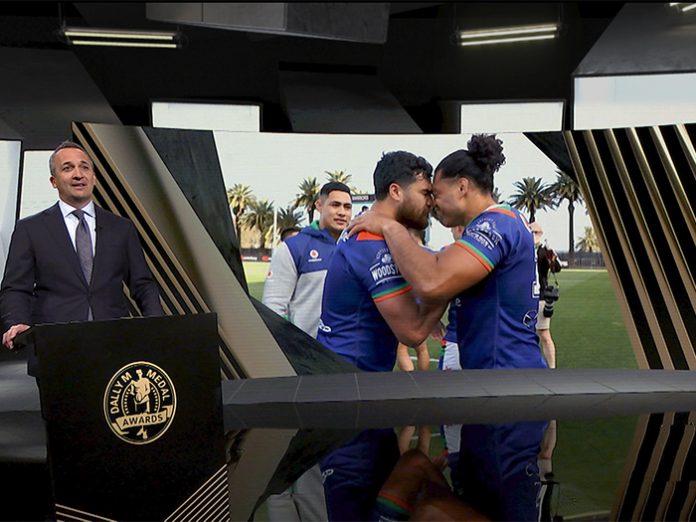 Known as one of the most prestigious sports events on the National Rugby League calendar, the Dally M Awards gives kudos to the top players from the premiership season in an annual awards ceremony. Whilst there was no red carpet and certainly no shimmering frocks in sight this year, the magical night of the Dally M Awards amazed its viewers by transforming into a live to air broadcast xR production, brought to life by Big Picture and held at the Fox Sports studios in Sydney. Brompton Technology's 4K Tessera SX40 LED processor was a crucial element in the multi camera xR workflow, offering reliable timing and consistency of image at this high-profile event.
"Big Picture has a long-standing relationship with Fox Sports, providing LED and other services to its studio and broadcast projects," said Josh Moffat, Business Development at Big Picture. "When their team approached us about the Dally M Awards, we were both thrilled and honoured by the opportunity to get involved. We also quickly realised that this would be a perfect platform to use our knowledge of ground-breaking Extended Reality (xR) technology and bring it to the next level by producing live to air broadcast xR production, which has never been done before."
The timing of the event could not have been more challenging. This was one of the busiest times of the year for Australian sports, with various sporting fields having their competition finals, so the Fox Sports studio was fully booked with broadcasts throughout the week preceding the awards show. "This meant we had to prepare for this a little differently," says Nathan Barnier, Senior Technician & Content Specialist at Big Picture.
The team ensured that all the main components of the system were set up and 'tuned', including Panasonic cameras, stYpe kits, Brompton Tessera LED processors, tally integrations and disguise media servers, all working in harmony.
"We loaded the full system in a few days prior and were able to secure a small corner of the studio to build a full height strip of ROE Black Onyx LED video wall," continued Barnier. "This allowed us to not only get ahead of the system integration with Fox Sports, but gave us time to nail our disguise xR timings, point our three cameras at the strip and get all our timings locked down – with xR the frame accuracy is the first step to getting the project to run seamlessly."
The final system comprised a 12m x 3m ROE Black Onyx 2.8mm LED wall integrated into the disguise xR workflow. Disguise's xR multi-camera registration workflow proved to be invaluable to the team by allowing effective switching between camera perspectives and the screen content. For LED processing, the team used two Brompton 4K Tessera SX40 LED processors and four Tessera XD 10G data distribution units.
"We chose Brompton processing for a number of reasons," explains Barnier. "Its genlock functionality was particularly important for accurate timing and seamless switching between cameras. Additionally, the OSCA (On-Screen Colour Adjustment) and ChromaTune features helped us change the colour balance and individual values. We set the white levels for the lighting and LED all to be the same white point, as once the lighting levels were set in the camera system they were not adjusted as it affects the xR environment."
Both Moffat and Barnier agree that in multi-camera xR workflow having a reliable LED processor is key. "Tessera processor capability is something we stand by and rely on for most of our projects, and this is vitally important when it comes to live broadcasts, and even more so with xR," adds Barnier.
With only 48 hours to prepare everything onsite from the last shoot to going on air, and with two days for overnight testing and additional configuration, all the elements had to be matched perfectly in order to achieve a seamless xR workflow.
"Having the right equipment to support our projects is imperative to us," said Barnier. "The Dally M event was a live broadcast, so there was no room for error. The combination of Brompton's unfailing LED processing power and disguise understudies and matrix failover options means we are always confident in the reliability our equipment offers. By being able to worry less about the potential failure, we can fully focus on delivering the best show for our client."
The feedback has been extremely positive, with the Big Picture team praised for going above and beyond to set up the system in what seemed an impossibly short time frame.
"We have always made it a point to only use the products we can trust and that are reliable for any live to air event," concluded Moffat. "This is critical in an xR environment where timing is crucial and Brompton's Tessera SX40 is a vital piece in our xR and VP (Virtual Production) workflows."