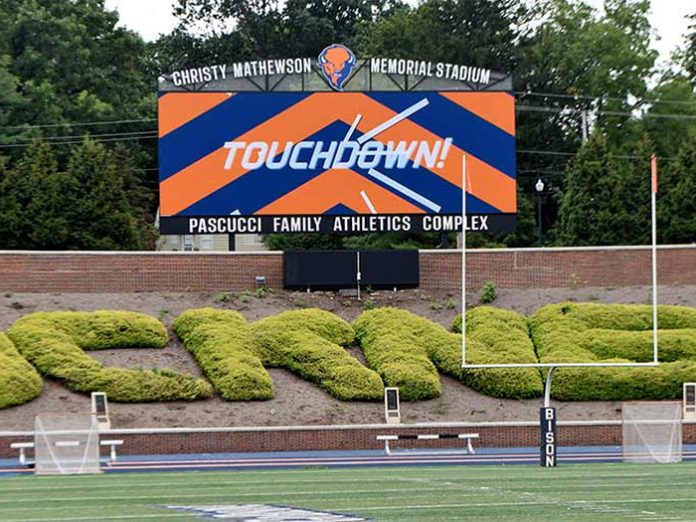 Daktronics has partnered with Bucknell University to design, manufacture and install a new LED video board in the end zone of Christy Mathewson Memorial Stadium on campus in Lewisburg, Pennsylvania. The large, new look to the end zone will be a centerpiece of the new Pascucci Family Athletics Complex, and it will be completed and ready to welcome Bison fans when the 2021 football season to kick off this fall.
"We are very excited to continue our partnership with Daktronics, which is an industry leader in sports venue entertainment," said Jermaine Truax, Bucknell director of athletics and recreation. "The new Daktronics video and audio system that is being installed in Christy Mathewson-Memorial Stadium at the Pascucci Family Athletics Complex will greatly enhance the game-day atmosphere for our student-athletes and fans alike. Christy Mathewson-Memorial Stadium is approaching its 100th birthday in 2024, and our fans will now get to experience a wonderful blend of history and tradition with modern technology."
The new video display will feature 10-millimeter pixel spacing and will measure approximately 20.5 feet high by 60 feet wide to appeal to fans in every seat of the stadium. The display features industry-leading environmental protection to ensure the display operates as expected in the outdoors of Pennsylvania.
Daktronics also provided a new state-of-the-art Sportsound® 2000 audio system that will be integrated into the video and scoring system at the stadium. This system provides full-range sound reproduction for a booming audio experience that includes clear and understandable speech from announcers.
"We are very proud to continue our long-standing partnership with Bucknell University by providing this new audio and video solution at historic Christy Mathewson Memorial Stadium," said Scott Willson, Daktronics sales representative. "This will be a game-changer for the Bisons fans, corporate partners and student-athletes. I am looking forward to game-day in Lewisburg."
To keep fans engaged and entertained, the LED display is capable of variable content zoning, which allows it to show one large video or image, but it can also be divided into multiple zones. These zones can show any combination of live video, instant replays, up-to-the-minute statistics and game information, graphics and animations, and sponsorship messages.
In addition to the equipment installation, the Bison will also receive a content package that will be produced and delivered by Daktronics Creative Services. The new board will support Bucknell football, men's lacrosse, and men's and women's track & field competitions, as well as other campus events staged in the historic stadium.
Daktronics has grown with the sports industry from the company's beginnings in 1968. Today, the company has LED video display installations at hundreds of colleges and universities across the United States.