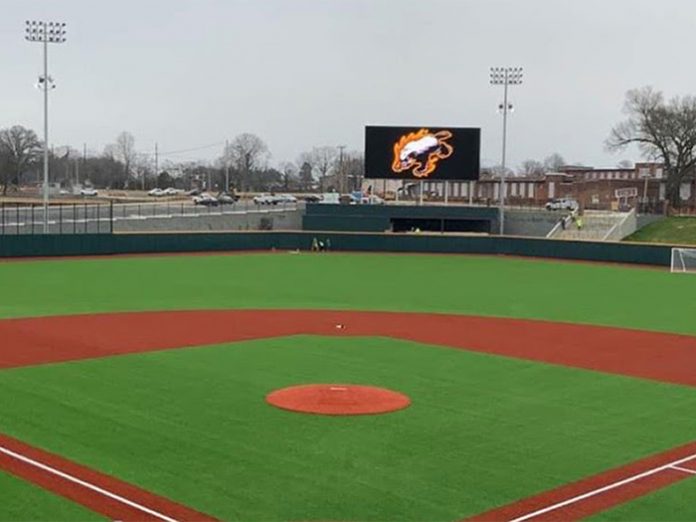 When fans head to the new ballpark in Gastonia, North Carolina, they will be welcomed by a main LED video display and exterior marquee display designed and manufactured by Daktronics (NASDAQ-DAKT) of Brookings, South Dakota. The 1,500-square-foot main video display for the Honey Hunters, new to the minor leagues, was recently installed and is ready to engage and entertain fans when baseball swings into action.
"The City is extremely pleased with the technology that Daktronics has incorporated into the digital board at the FUSE ballpark. It features capabilities that will impress and excite crowds and provides the flexibility required for a multi-use facility," said Gastonia City Manager Michael Peoples.
The video display in center field will measure 25 feet high by 60 feet wide and featuring a 15HD pixel layout to bring excellent image clarity and contrast to fans in every seat of Gastonia's new ballpark. It also features industry-leading environmental protection to ensure it is operational in all types of weather for every event.
"We are excited about our partnership with Daktronics," said Brandon Bellamy, Gastonia Honey Hunters Team Owner. "This state-of-the-art technology will allow us to create and deliver the ultimate fan experience. We look forward to welcoming everyone to the FUSE multi-use sports and entertainment facility for year-round events and activities."
The display is capable of variable content zoning allowing it to show all the video and information fans crave and expect to see at baseball games and other events. It can show one large image or be divided into multiple zones to show any combination of live video, instant replays, up-to-the-minute statistics and game information, graphics and animations, and sponsorship messages.
Additionally, a marquee display was installed to welcome fans to the venue and share current and upcoming event information. It measures nearly 8 feet high by 16 feet wide and features 10-millimeter line spacing.
"This will be a great addition to their new ballpark as Gastonia ushers in a new age of baseball," said Gail Olson, Daktronics sales representative. "We're excited to see this project come together and look forward to seeing the technology making an impact at games and events in 2021 and beyond."
Daktronics included its powerful Show Control solution with this installation. This industry-leading system provides a combination of display control software, world-class video processing, data integration and playback hardware that forms a user-friendly production solution. For more information on Show Control, visit www.daktronics.com/show.
In addition to the equipment installation, the Honey Hunters will also receive a content package that will be produced and delivered by Daktronics Creative Services.