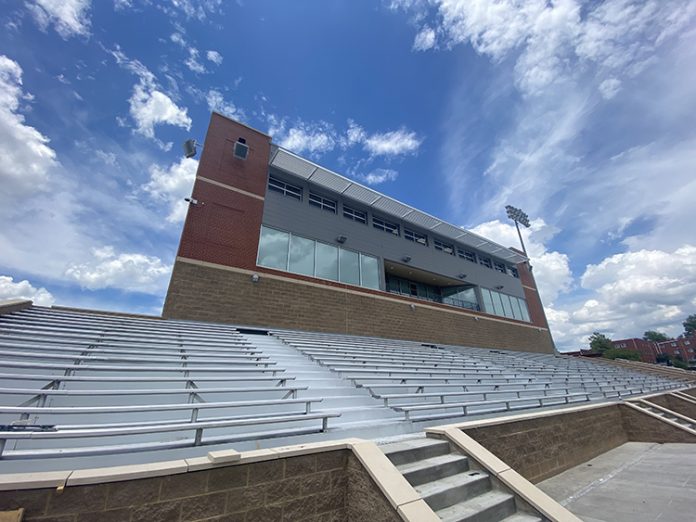 Kentucky based AVL consulting and installation experts JCA Media continue to push the audio, video and lighting technology envelope with their latest upgrade project for the Finley Stadium / Citizens Bank Field press box and connected facilities at Campbellsville University in Campbellsville, Kentucky. At the heart of the more than nine miles of combined AV cabling across the venue, JCA Media selected an Allen & Heath dLive CDM32 MixRack, a compact dLive C1500 surface and a plethora of remote control options to provide the audio mixing heavy lifting.
"While it is a large building, it is primarily a football system with a few open mics needed for the main PA," notes JCA Media Project Manager Alex Peake. "The PA mix comes from an Allen & Heath IP8 Remote Control, an 11-1/2" wide motorized 8-fader remote that works with the dLive system. The main PA operator just wanted quick level control for the stadium announcer mic, ref's mic, and music—a sidecar sort of functionality which the IP8 handles with ease. A dLive C1500 Control Surface lives in the broadcast room where the crew can quickly tweak EQs and compression for the broadcast mix to be a little more hands-on there. It's really cool just how flexible dLive is when it comes to both control and I/O options, especially since there are two broadcast rooms, a classroom on the second floor, and the President's Suite on the third floor that all have I/O requirements as well. We used DX168 remote I/O units in each location that flow in and out of the CDM32 to give me the needed connectivity in those rooms. Audio control in each of the spaces is handled by wall mounted IP1s or the more tactile IP8s."
"These IP1 and IP8 units are so powerful," Peake adds. "They are a quick way to give control of a dLive or Avantis or even an AHM. We connected them via a standard TCP/IP network connection and easily interface with other controllers and computers—all on a standard ethernet infrastructure. Campbellsville has an IP8 in front of the Play-by-play operators. Layer A is the monitor mix for Play-by-play 1 while Layer B lets Play-by-play 2 adjust their monitor mix. This is a pretty cool application with two of the six IP8 fader layers used as a monitor mixer for multiple folks."
"When they play stingers or commercials that show up on the huge stadium display and PA, they didn't just want that audio mix to be managed in the Tricaster," noted Peake. "They instead wanted to bring it out to fine-tune via the dLive along with their play-by-play mics and ref mics that then would route back to the Tricaster. Dante allows us to pull from the Tricaster media pool and send to the dLive to combine and mix as needed and roundtrip it back to the Tricaster program feed. This routing used to be much more technically complicated in the previous system design, but now Dante and dLive combine to add the power and flexibility and simplicity they need."
dLive Director is also in use across any zone in the venue which requires audio control. From exterior tailgating zones and over to the press box and various interior zones, access points for dLive Director offer audio control where and when it is needed. A multi-platform editor and control software for dLive, dLive Director allows for system configuration offline before the game starts and full control of the mix live using a Mac or PC laptop or touch tablet. "If someone doesn't have quick access to the dLive C1500 in the broadcast room," Peake notes, "they can pull it up right where they are on their Mac and run what they need to. Pretty much wherever we have a screen, we've got access to Director—and therefore access to the dLive."
Named after Campbellsville University's longest serving football coach, Ron Finley, the Finley Stadium / Citizens Bank Field press box contains a wide array of state of the art AVL gear. With over 20 Danley cabinets, Shure QLX-D microphones, a Blackmagic 288×288 Videohub, nearly 50 Green-GO comm drops, Panasonic PTZ cameras, Lyntec power control, Winsted production room command consoles, and lighting from Chauvet and The Light Source, Finley Stadium is equipped to excel in live, streamed and distributed audio and video well into the future.