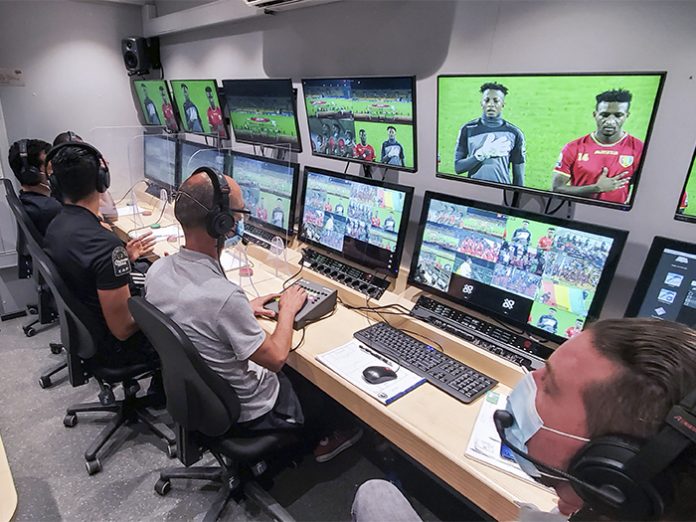 The 2020 African Nations Championship also known as the Championnat d'Afrique des Nations or CHAN was held from January 16 to February 7, 2021. This sixth edition of the biennial football tournament was organised by the Confederation of African Football (CAF) and hosted by Cameroon. Morocco may have successfully defended their title, but the Cameroon Football Federation wrote a new page in the video assistant referee playbook.
Broadcast Solutions announced today that it will be delivering two additional Video Assistant Referee (VAR) systems for the Cameroon Football Federation. These systems are an extension to the existing platforms that were deployed last year.
For the first time, an African football federation developed and deployed its own VAR video operations room (or VARVOR) infrastructure. Local systems integrator Optimum was mandated in 2019 by the State of Cameroon to design, deploy and operate VAR infrastructure for the competition. In-line with Confederation of African Football (CAF) recommendations, Optimum selected EVS' Xeebra as its core VAR platform. They then contracted Broadcast Solutions to design and integrate the video operations rooms that could meet the requirements of an international event such as the CHAN.
Talking about the rollout of the project, Gaéthan Donlap, Chief Operating Officer of Optimum says: "We faced three challenges. First, current IFAB and FIFA regulations require up to six operators – one Video Assistant Referee, two Assistant Video Assistant Referees, two Replay Operators and one Technical Guarantor – to share the same space during major games, which is a real challenge in Covid times! Second, we needed best of breed intercom integration between the VARVOR and the referees on the pitch. Finally, we had to build a platform that could meet the tropical climate that we enjoy here in Cameroon."
As a FIFA certified VAR technology provider and with EVS as a key technology partner, Broadcast Solutions was keen to step up to the plate and support Optimum, the Cameroon Federation and CAF.
"Our expertise in mobile production platforms was essential to successfully addressing Optimum requirements", explains Stefan Breder, CEO and co-founder of Broadcast Solutions. "Beyond system integration of AV infrastructure, we had to ensure that ergonomics, air conditioning and power management met the requirements that a mission-critical service like VAR requires."
The resulting four VARVOR platforms were integrated into ISO compliant 20 feet containers. These shelters provide the operating room needed by the referees and VAR operators, as well as the power distribution and AC required for systems to run.
"We are impressed with the VAR platforms that Optimum deployed for the CHAN", said Wael Elsebaie, VAR Project Manager from CAF. "Now certified, these platforms can be moved from one stadium to another without the need for renewed certifications. The EVS Xeebra video assistance system only requires some simple configuration data from a surveyor to update the virtual offside line detection system."
These VARVOR systems were successfully deployed during the recent African Nations Championship to service referees and their assistants. Moving forward, two additional VARVOR platforms are being built by Broadcast Solutions for the coverage of the African Cup of Nations or CAN that will be hosted by Cameroon in February 2022. These will be commissioned in partnership with CAF authorities in Germany.
"We are extremely proud to contribute to this exciting project of VAR Video Operation driven by Optimum. Beyond offering certified VAR functionalities, Xeebra has been designed by EVS to adapt to the most demanding and creative requirements in terms of connectivity and flexible deployment" said Nicolas Bourdon, Chief Marketing Officer at EVS.