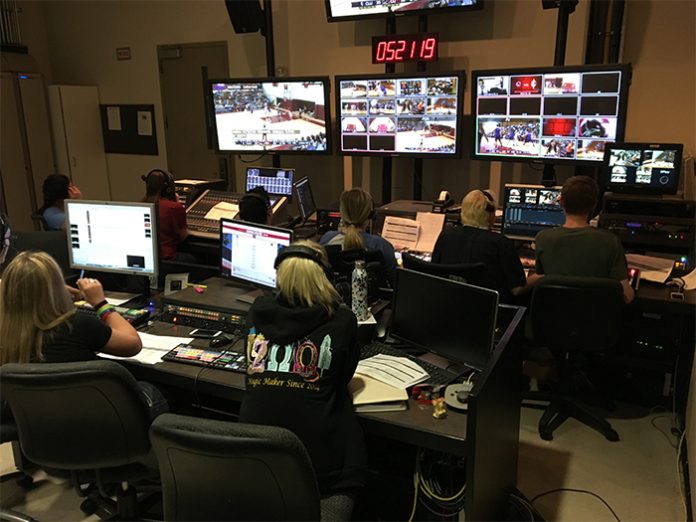 Joseph Electronics (JE) announces that Chapman University has purchased a specially designed fibre transport system for its student-run Chapman Sports Broadcast Network (CSBN). The new system supports CSBN's live broadcasts for local TV, radio, and online streaming services. It replaces multiple flight packs and allows the university to consolidate production into one central control room in order to make better use of existing equipment.
Chapman University is a private, four-year university in Orange, California, and home to Dodge College of Film and Media Arts, one of the top ten film schools in the world. "We were looking for a 'magic transport box' that we could connect and forget, and that's just what we got. Joseph Electronics had the experience and expertise to give us a fully customised solution," said David Goedhart, PEG engineering operations manager at Chapman University.
The JE-designed transport system is housed in a mobile case that allows crews to connect to multiple fibre points around campus, including the university's football stadium, aquatics centre, and gymnasium. A typical broadcast includes eight cameras; two replay channels, four graphics channels, 64 audio channels, and three on-camera talent positions. Through the mobile system, crews can transport signals over 3,000 feet between the venues and the television control room at the Dodge College of Film and Media Arts, Chapman University's world-renowned film and broadcast school.
The system is robust enough to support eight cameras, four video returns, and four additional fibre connections all over a single existing fibre pair, yet simple enough not to add multiple layers of complexity to an already advanced production system. JE's design overcomes challenges inherent in the Chapman University deployment. For example, because crews are piggybacking on existing fibre runs, the fibre cables connecting the system go through seven different connection points. Joseph also implemented wave-shifting technology to accommodate some existing fibre gear that did not have a CWDM option.
Importantly, the new JE system takes the place of multiple flight pack cases that formerly housed the entire production system — including the control room portion — and had to be transported to the venue and assembled on location for every production. The JE design moved the control room portion of the workflow into the existing Dodge College facility and put all on-location fibre-transport gear into a system that fits in a single case. By taking control room functions out of the flight pack and merging them into an existing production environment, CSBN can now produce live sporting events out of the same control room as the school's newscasts, narrative television shows, and talk shows — thereby producing significantly more content through equipment the university already owns.
"Joseph Electronics has allowed us to maximise our existing resources and consolidate future purchases," David continued. "As an engineer, I appreciate the speed at which Joseph Electronics allows us to work. Setup time for productions has been reduced from seven hours to 90 minutes. Maintenance is also considerably easier since the control room equipment is always available, unlike with the old system, which we had to physically pull from storage just to do simple tasks."
"Chapman University and Dodge College are well-known for their state-of-the-art production facilities and award-winning faculty, many of whom continue to work in the film and broadcast industries," said Bruce Arnold, West Coast regional manager of Joseph Electronics. "It's been an honour to help such a prestigious organisation take full advantage of its resources while bridging the gap between venues and the control room."