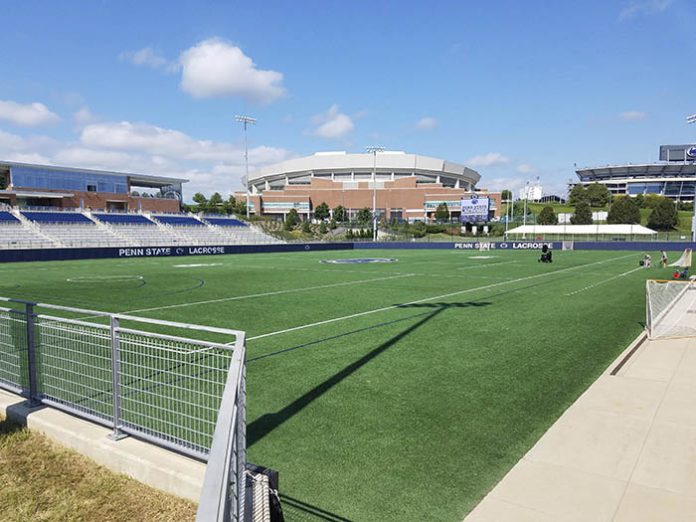 Penn State's Nittany Lion athletics programme is fiercely competitive and well-supported by the school and its alumni. In that tradition, the Penn State men and women's lacrosse teams now practice and compete in Panzer Stadium, a new multimillion-dollar, state-of-the-art facility. Its 1,300 seats are close to the action, and the entire facility is wired for modern broadcasting, which will allow Penn State to host high-profile NCAA and Big Ten championship games. Pennsylvania-based audiovisual design and integration firm Clair Solutions handled the broadcast infrastructure and sound reinforcement at Panzer Stadium, earning the job based in part on the sensible proposal of Jim Devenney, Clair Solutions' senior systems designer and in part on the successful completion of numerous other projects at Penn State.
"We originally got involved because we've done a lot of other work at Penn State, including 100,000-plus-seat Beaver Stadium" Jim explained. "The school benefited because we're a one-stop-shop with deep in-house knowledge about the design and installation of audio and broadcast systems. In Clair's long history, we've seen it all. The decision-makers at Penn State who were responsible for Panzer Stadium's audio and video systems had a clear vision for what they wanted, which gave us a solid, fixed target to shoot for." Clair Solutions' design/build worked in synergy with the larger project, which was designed by Moody Nolan, of Columbus, Ohio and APArchitects of Lemont, Pennsylvania, and built by general contractor PJ Dick of Pittsburgh, Pennsylvania.
Jim continued, "Penn State wanted the broadcast cabling infrastructure in Panzer Stadium to meet the high expectations of first-rate media outlets like ESPN. When an ESPN crew rolls in, they expect tie-ins for camera positions all around the field. They have high production values, and they're every bit as high for lacrosse as they would be for, say, football or basketball." The anticipation of high-profile media attention is not just wishful thinking on the part of Penn State, and lacrosse is now a Big Ten sport, and the Nittany Lions men's and women's lacrosse teams are among the best in the nation.
Jim's design gives Panzer Stadium comprehensive connectivity via a lot of single-mode fibre, CAT6 data, video, and audio. "The cabling itself wasn't cheap," Jim observed. "When you're buying a lot of wire, well, it is what it is." Wires run from all possible camera positions and then sensibly split or go to the press box and/or the broadcast truck pedestal. Since there's no better time to get the cabling right than during original construction – both for near-term needs and long-term growth, the Clair Solutions installation team endeavoured to provide Penn State with cabling infrastructure that will serve Panzer Stadium season after season after season without so much as a hiccup.
Per the school's request, the sound reinforcement system is modest but capable of future growth if needed. A Soundcraft Si Expression 1 console serves as the user interface for Penn State's audio techs and brings together a bevvy of Shure wired and wireless microphones and various playback devices. A BSS Blu160 DSP system handles input conditioning, routing logic, and loudspeaker conditioning and also provides simple, on-field input and volume control so that the teams can control their own music for practices and warm-ups. Lab.gruppen C-series multi-channel amplifiers power Community R2-series outdoor loudspeakers and JBL Control-series indoor loudspeakers.