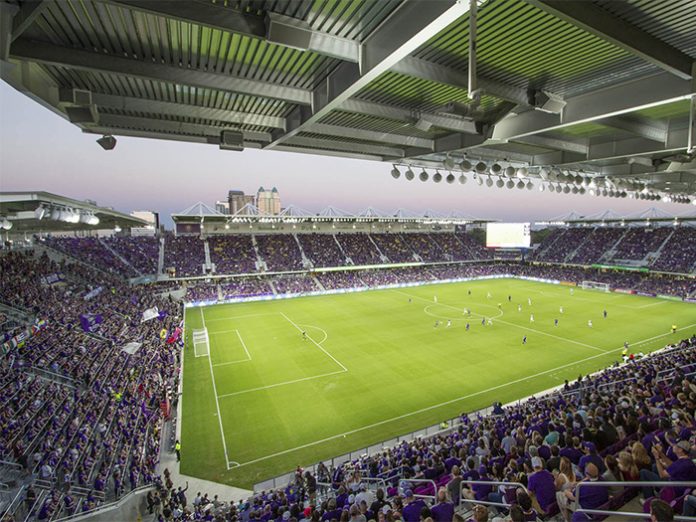 Built for fan comfort, engagement, and convenience, Orlando City Stadium is the newly-constructed home of the Orlando City Soccer Club.
The stadium accommodates nearly 30,000 people with low-slung roofs to shield fans from the powerful Florida sun and not-infrequent Florida rain. A distributed JBL loudspeaker system conveys announcements with intelligibility and music with plenty of fidelity and impact to stir emotions. Clair Solutions worked closely with all the firms involved in the design and construction of Orlando City Stadium to make its sound reinforcement system a timely success.
"The bid and interview process for Orlando City Stadium was extremely competitive," explained Tim Jacobs, project manager for Clair Solutions. "Populous was the architectural firm for the stadium, and WJHW consultant, Gary White, designed the sound reinforcement, broadcast cabling, and video production systems. Over the course of the roughly six-month installation process, Clair Solutions installed all of the audio for the building – including the bowl, the VIP lounge, bathrooms, locker rooms, and press area, as well as the broadcast cabling and the video replay system. Typical for a project of this size, timelines for project milestones were tight.  Working with Jose Sandoval, project manager for Barton Mallow, we were able to stay on schedule and deliver the finished product on time."
In a nutshell, Dante digital audio and BSS HiQnet Audio Architect control are distributed from the mix booth to six separate amp rack locations over single mode fibre optics using Cisco SG500 switches. Harman BluLink distributes digital audio within each amp rack location, where Crown amplifiers power the JBL loudspeakers distributed throughout the bowl, concourses, and restrooms. A Soundcraft Expression 2 console located in the announcer's booth serves as the main interface for the system, and a Soundcraft Si Expression 1 provides mixing capabilities in the video production booth. Extron switches and controllers link systems, and an externally-positioned, stainless steel enclosure houses audio tie lines, Triax camera connections, fibre optic, data, and video ties between the dock and all camera positions around the stadium.
Clair Solutions installed microphone models from Shure, Sennheiser, AKG, and Klover. Two Shure desktop microphones serve in the writing press booth for production announcements and two Shure handheld paging microphones allow for remote or on-field production pages. Two Sennheiser wireless systems convey performances of the national anthem and other a cappella performances with solid musicality, and four wired AKG microphones join them to accommodate larger vocal groups. One Sennheiser lavalier microphone used with a Klover parabolic collector pick up specific on-field sounds and voices for use in broadcasts. Two headset microphones deliver public pages and commentary with intelligibility and intuitive control for the hard of hearing.
Clair Solutions provides a powerful, open-architecture video replay system. "We had to build a system that subcontractor A could use one way, subcontractor B could use a different way, and subcontractor C could use in a still different way," explained Seth Morth, engineering manager with Clair Solutions. "It's a real sandbox – users can configure it any which way, but the trade-off for all that power is the risk of making it too difficult to use. We fell back on industry best practices, including predictable signal flows and abundant, consistent documentation. Every source, destination, and connection always get exactly the same label in all the documentation."
Major components in Orland Stadium's in-house video replay system include a Ross Video Carbonite 2ME switcher, Ross SDI-based NK-Series video and analog audio routers, a Ross video Blackstorm Video Server and a Ross MIRA Slo-Mo / Replay system. An AJA FS-2 handles video signal conversion when necessary, and IHSE KVM matrix switches transmit video signals. Several Ikegami HC-HD300 Cameras with Fujifilm lenses cover both the stadium and the stands. Bittree B96H Series Video Patchbays provide robust connection points and Forecast Consoles and Middle Atlantic Products provide custom furniture and racks.