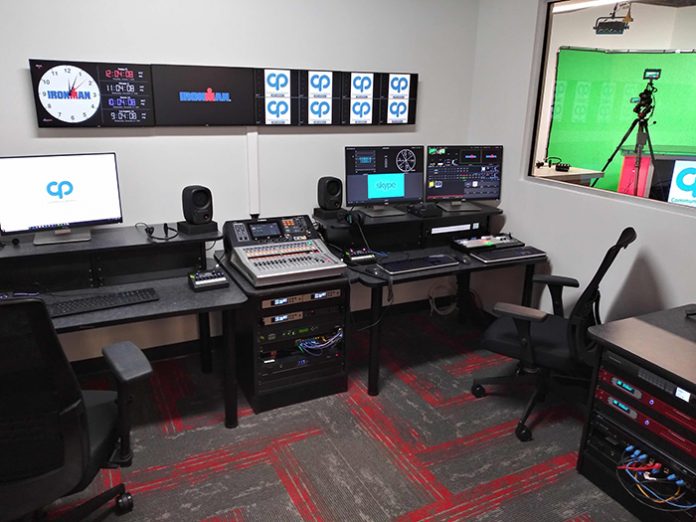 CP Communications has completed the systems integration of a custom-designed streaming media studio and control room that enables The IRONMAN Group—a Tampa-based sports event management company—to deliver live coverage of its branded multisport and marathon events over-the-top (OTT) via its website and Facebook Watch.
Owned by the Chinese Wanda Sports Group, The IRONMAN Group produces more than 235 race events across 55 countries worldwide. These include the iconic IRONMAN Triathlon, which combines swimming, biking, and running into a single long-distance contest; the Rock 'n' Roll Marathon Series, and more.
"With this new multipurpose facility, IRONMAN can now produce live video coverage of events remotely over IP, saving travel and crew costs for a faster ROI," said Kurt Heitmann, CEO, CP Communications. "Bonded cellular—one of our specialties—facilitates video signal backhaul and distribution, bringing IRONMAN over the finish line as a provider of premium sports content."
Besides bonded cellular for IP-based transmission, the design leverages Dante to configure, manage, and route broadcast-quality audio over IP; and NDI, an IP-based video networking platform that extends the HD-SDI workflow. These technologies form a powerful yet-cost-effective studio and control room to manage remote productions via IP, and simultaneously produce live studio segments for event commentary, news, and Skype call-ins. A digital media room supports production of live stream video podcasts and on-demand training videos for IRONMAN athletes.
IRONMAN had already purchased some equipment before engaging CP Communications, including a 4-input NewTek TriCaster Mini video switcher and an analog Mackie audio board. They required a more sophisticated technical infrastructure to accomplish their production goals and CP expanded IRONMAN's capabilities to maximize those capital investments. Within two months and on a tight budget, CPharnessed the combined experience and technical expertise of their designers, engineers and systems integrators, who built-out the studio and control room in two adjoining offices at IRONMAN's Tampa headquarters.
The control room now includes the following gear to enhance the production workflow:
An external 20×20 expansion router to expand the switcher's video inputs from 4 to 20
A Dante license was added to the TriCaster Mini to accommodate Dante-compliant audio
A Yamaha TF-1 digital audio mixer with Dante sound card
A Dante-enabled Unity intercom system, wireless mics, and in-ear monitors
A Wowza Clearcaster for streaming to online portals like Facebook
Mobile Viewpoint 2K4 playout servers and Terralink bonded cellular encoders
The 20-square foot studio design added the following capabilities:
A News Desk Production set
A greenscreen stage for immersive virtual sets and backdrops
A NewTek TalkShow for bringing Skype callers into the live program
Two Sony PXW-100 (1080i) cameras with added zoom and focus control, fluid head
tripods, Dante communications, and NDI-based teleprompters
A DMX lighting control system to control color temperatures and lighting set-ups
"We designed this studio/control room to enable IRONMAN to record training videos with virtual sets and to acquire, produce and stream its own high-value sports content," Heitmann said. "We also paid special attention to the quality and consistency of the lighting for virtual sets, and keeping video and audio in sync with NTP clocking. The complete solution now ensure a flawless, broadcast-quality presentation for every IRONMAN event."