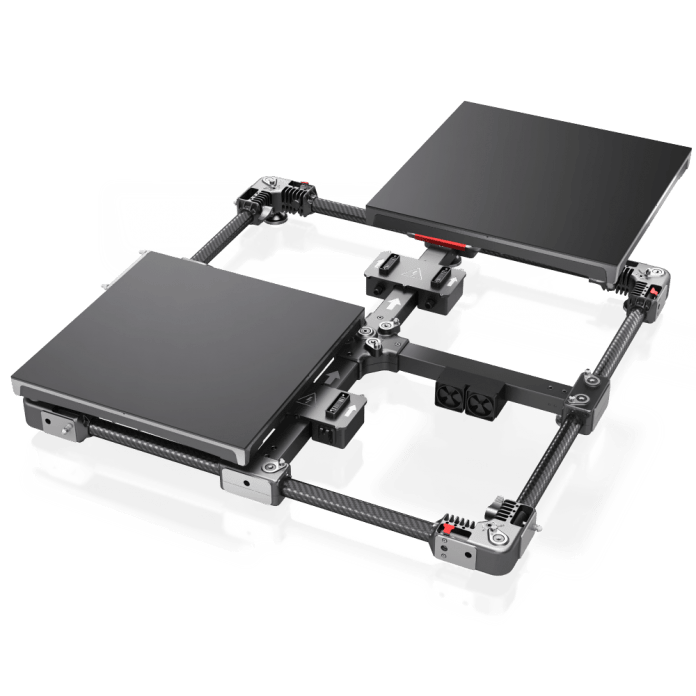 LED display manufacturer, CreateLED, has announced its height-adjustable, LED floor display solution, AirFLOOR-V1. The range launches with two pixel pitch, the 1.6mm and 2.6mm. Suited to a wide variety of applications from virtual production for broadcasting and film productions, corporate receptions, through to hotel, leisure and retail, CreateLED's AirFLOOR-V1 adds an extra level of immersion to any showcase environment.
AirFLOOR-V1 panels are robust and waterproof with an IP 65 rating for both front and rear sides of the panel. The slim and lightweight design of the panels facilitates both storage and transportation. Measuring 1m square, each panel holds four LED modules configured two by two, boasts a total thickness of 135mm and weighs in at just 9Kg. That is just 45Kg per square metre, with the cooling system attached. The panel's much-reduced weight, but also its strength, is conferred by the panel's carbon fibre structure and spliced extrudate design.
The lightweight AirFLOOR-V1 panels are fast and convenient to install. Plug-in connections between the cabinet and the holder enhance connection reliability. With no unsightly cables to navigate, the panels are secure, adjusting simply to the fluctuations of any floor to create a smooth and visually enticing walkway on the most uneven of floors.
The AirFLOOR-V1 panels are bright, achieving between 600 – 1000 nits with a panel refresh rate of 3,840 Hz to 7,680 Hz. The superior 22-bit, 281 trillion colour visual performance of the panels is further defined by CreateLED's Ebony Technology which also supports the panel durability. The tough, fused layer grants an extremely wide viewing angle of 160-degrees as well as the ultimate black surface through which colours pop for a punchy and crisp image, achieved through the exceptional contrast ratio of 20,000:1.
The Ebony technology surface secures the LEDs through handling, installation, and transportation and it's this protection that enables the fine pitch of the panels. The Ebony Technology's defence extends to humidity and temperature fluctuation too to create a floor that is resistant to external factors such as UV Rays, elevated temperatures, wind and corrosion.
CreateLED's AirFLOOR-V1 panels are certified to meet CE, EMC, Class-A, ETL and RoHS international standards with a maximum power consumption of 160W per panel, averaging at 50 – 80W/panel. With sustainability always a key topic, the maximum lifetime of the LED's is an impressive 100,000 hours operating in temperatures ranging from -20°C to 50°C in up to 90% humidity.
CreateLED's AirFLOOR-V1 panels provide a versatile new dimension for any event or corporate experience and are shipping now through CreateLED different channels.