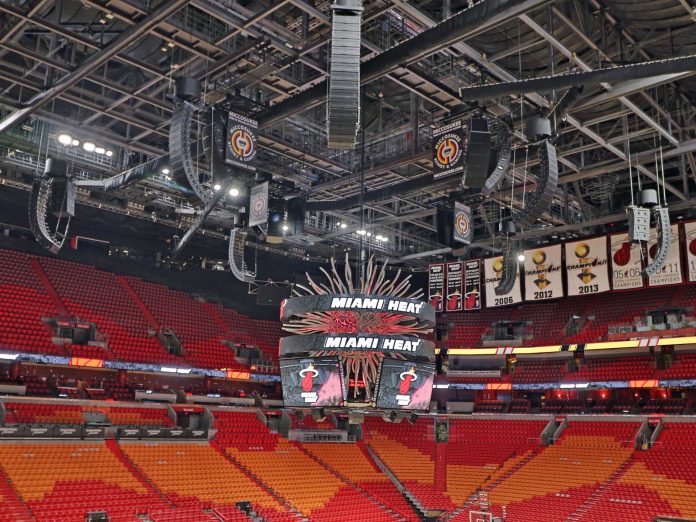 Located in Downtown Miami, Florida along Biscayne Bay, AmericanAirlines Arena is home to the NBA's Miami Heat basketball team. With 2,105 club seats, 80 luxury suites, 76 private boxes, and a total seating capacity of just over 21,000 people, the arena is an upscale facility in every aspect. After updating a sound reinforcement system that had been in service since 2002, the main Arena in-bowl area is now equipped with new loudspeakers from the Aero Series 2 and UX Series catalogs of Valencia, Spain-based D.A.S. Audio.
Jorge Arronte, Manager of Sound and Matrix, along with David Vickery, the Director of Broadcast Services, are the two key on-site personnel responsible for many of the arena's key facility decisions. Over the years, the two gentlemen have upgraded numerous areas—both inside and outside—at the arena. This latest loudspeaker upgrade brings the signature sound of D.A.S. Audio to the main arena seating areas. The facility enhancement includes 128 D.A.S. Audio Aero 40A enclosures, 16 Aero 20A cabinets, along with 8 UX-218RA sub bass enclosures—all governed by Lake/Dante loudspeaker management & distribution system. Arronte and Vickery discussed the project and their reasons for deploying the D.A.S. Audio equipment.
"We started the upgrade on September 1st," Vickery reports. "The various cluster arrays were cabled, lifted, and tested throughout the month and the new sound system came online for the Miami Heat's first pre-season game on October 1st, 2017. As the main arena in-bowl PA sound system, it is used for all forms of audio presentation, including voice, musical instruments, Power Point presentations, video playback, special effect sound, and the like. Applications include the presentation of NBA basketball games, corporate events, concerts and shows, as well as arena facility training."
This new loudspeaker configuration is a line array system design. As such, it facilitates even frequency response and clear sonic coverage throughout the seating areas. According to Arronte, "This line array is very steerable and is one of the key reasons it was selected for the seated audience. Based upon the sound modelling of the arena seats, eight cluster locations were designed by D.A.S. engineers in Spain for maximum coverage with minimal power requirements."
When queried about those attributes that really distinguish the D.A.S. loudspeaker equipment, Vickery offered the following thoughts, "After the sound demonstration of the Aero 40 loudspeaker cabinets, it was obvious we could achieve the necessary SPL using a relatively compact enclosure. With the balance of the 3-way component features of the Aero 40, we could reach our audience with both speech and music clearly—without the high power typically required in large venues. This was one of the most important features we were looking for: presence without excessive power."
With a project of this size and scope, questions inevitably arise. Arronte shared his thoughts regarding D.A.S. Audio's customer and technical support services. "Our relationship with D.A.S. Audio—both the home office in Spain and the local office here in Miami—has grown substantially in recent years," he said. "The responsiveness of the company to our various questions is very impressive and both offices take a genuine interest in helping us achieve our goals. Jaime Villegas, the General Manager of the Miami office, consistently checked with us to ensure every aspect of this project was proceeding efficiently and to make certain the company's products were meeting expectations. This has been a progressive business relationship between the AA-Arena and D.A.S. Audio, and it's one we value very much."
With the new sound system in place and operational, Vickery reports both he and Arronte are very pleased. "The new sound system has a huge impact on the enjoyment of the audience," he explained, "and where admission is charged, it becomes even more important to deliver consistent high-quality sound throughout all seating areas. Our goal this time was to bring sound as a presence to the seats instead of pushing sound across a large space with lots of power, which can result in a very loud and noisy experience. Sports fans attend athletic events with high expectations, and most of those expectations have very little to do with what's happening on the basketball court. They want, among other comforts, excellent lighting, sharp video presentations, and high-tech sound. With the new loudspeaker cluster locations and configuration, we have reached our audience with presence and clarity without the need to push high power across the arena facility."
www.aaarena.com.