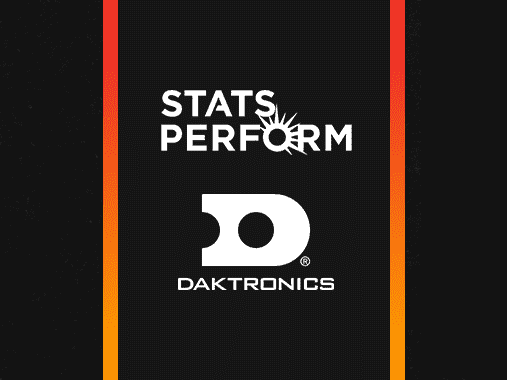 Stats Perform, the SportsTech leader in data and AI and technology, and Daktronics of Brookings, South Dakota, have announced a partnership to deliver the latest in data visualizations for digital signage both in and outside sporting venues.
The partnership combines Daktronics' expertise in large-format LED video displays with Stats Perform's industry-leading live premium scores and sports insights to create a more immersive fan engagement offering. In addition to offering the latest premium live, predictive and analytical match data over scoreboards and digital displays, the two companies will work together to generate new data visualizations on digital signage, helping teams and venue owners maximize their sponsorship activation.
"This partnership allows our two companies to work together to simplify the process for customers we have in common as well as expanding to new customers to deliver on their statistical needs," said Will Ellerbruch, Daktronics national sales manager. "It's extremely easy to integrate Stats Perform's data into our technology. In return, it gives the vital, additional information that fans expect to see at a live sporting event."
Daktronics and Stats Perform already work with major venues around the world providing live scores, insights and out-of-town scoreboard offerings. In formalizing a new partnership, the two companies will leverage their unique expertise to offer a more robust and analytical data offering that will transform the fan experience and generate new sponsorship revenue for stadium owners. In-venue and digital signage providers can now get their robust data visual offerings directly from Daktronics.
"If you look at any modern sports stadium, the use of digital signage is becoming more prevalent and has become a vital way to keep fans engaged, excited and informed throughout any event," Stats Perform Senior Vice President of Global Partners and Channels Wayne Ford said. "Whether it's on the main scoreboard, or digital signage elsewhere inside or outside the stadium, effective data visualizations have a way of attracting fan attention, while driving new sponsorship opportunities for the venue. Daktronics and Stats Perform have so much experience in the space and this partnership offers a seamless fit to help us transform large format data visualizations covering the game today."
Daktronics is part of Stats Perform's Sports Partners Intelligence Network (SPIN), which connects top technology and consulting partners with Stats Perform's leading data and SportsTech solutions to develop new offerings for the sports market. Stats Perform brings innovative sports solutions to life for betting, media and team/player performance and is a leader in leveraging AI to challenge how the games and players are measured. SPIN partners range from broadcast infrastructure providers to high-tech AI companies to system integrators and beyond, creating a robust partner ecosystem to meet the industry's needs.