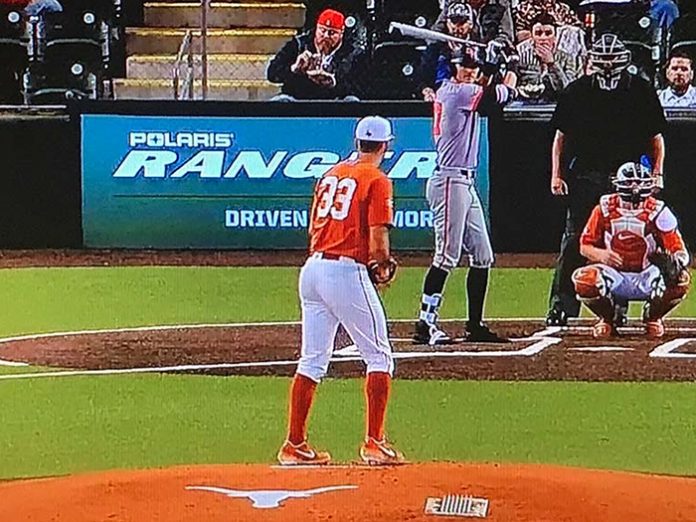 When University of Texas Longhorn fans head to sporting events in 2019, they will enjoy six new LED displays manufactured and installed by Daktronics. Nearly 3,000 square feet of LED technology will enhance the fan experience at baseball, swimming & diving, soccer, and track and field events on campus for years to come.
"Daktronics continues to provide valued products for Texas Athletics," said Texas Vice President/Athletics Director Chris Del Conte. "These new videoboard displays at Lee and Joe Jamail Texas Swimming Center, UFCU Disch-Falk Field, and Mike A. Myers Track & Soccer Stadium provide our fans with excellent in-venue game-day enhancements. Fan attendance and engagement are so important to our student-athletes and coaches."
Main video displays at Mike A. Myers Stadium and Soccer Field, Lee and Joe Jamail Texas Swimming Center, and UFCU Disch-Falk Field bring excellent image clarity and contrast to fans in those venues. The new displays are capable of variable content zoning, allowing each display to show one large image or divide into multiple windows to show any combination of live video, instant replays, statistics, event information, graphics, animations and sponsorship messages.
"All of us at Daktronics thank the University of Texas for their confidence and trust in us to upgrade the displays at these venues," said Daktronics Sales Representative Dan Fjeldheim. "We are excited to showcase the aquatics and track and field displays at NCAA national championship events this year. The baseball video board caps off a system that provides attendees a second-to-none college baseball game-day presentation."
In the outdoor venues, UFCU Disch-Falk Field receives a new left field video display and a backstop display. The video board is 15-millimeter SMD line spacing while the backdrop features 6-millimetre line spacing. Myers Stadium receives a new display at the north end and clock displays at field level. Both feature 15-millimetre line spacing.
Inside Jamail Texas Swimming centre, new displays will be mounted at each end of the venue and one other display is mounted to the wall next to the diving well. These displays feature 10-millimetre line spacing to bring high-resolution imagery to fans throughout the venue.
For ease of control across multiple venues, Daktronics has also installed its powerful Show Control System. This industry-leading system provides a combination of display control software, world-class video processing, data integration and playback hardware that forms a user-friendly production solution.