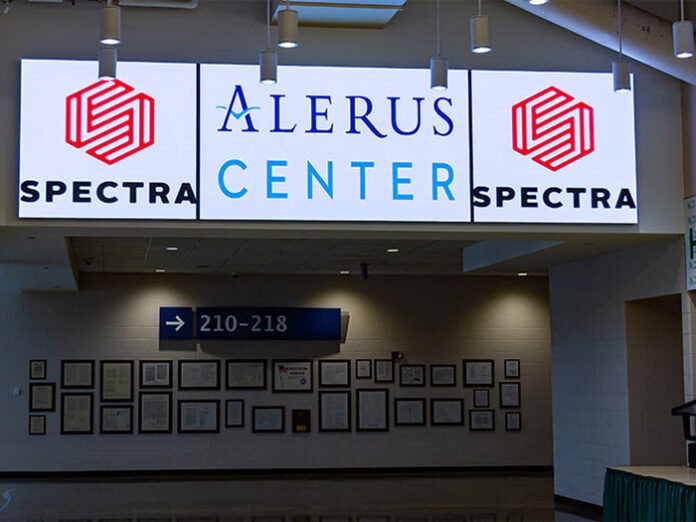 Alerus Center in Grand Forks, North Dakota, partnered with Daktronics of Brookings, South Dakota, to integrate their entire venue and network of LED displays and LCDs into one easy-to-use control solution this past winter.
The hybrid facility, operated by Spectra, hosts hundreds of sporting, hospitality and conference events per year. The Spectra operations team prepares the building for those events including the University of North Dakota football, conventions, weddings and meetings multiple times per week. The operations team was looking for a digital signage partner that could entertain concert and sporting event attendees, but also quickly be reconfigured to inform hospitality and conference attendees.
Additionally, Spectra was searching for a solution for internal small-format LCDs all the way up to large-format roadside billboards. The signage and software solution provided by Daktronics features 12 LED displays and multiple LCDs located in admin areas, ballroom entrances, box office windows, meeting room entrances, common spaces and externally.
"Our staff appreciates the ability to provide wayfinding and important information to our patrons – no matter what event they are attending," said Kaitlyn Spinney, director of conference sales and marketing at Alerus Center. "With multiple events happening at the same time most days, it is great to have an easy-to-use platform to share this data. Daktronics was able to integrate into our event scheduling software to pull data automatically – saving our staff hundreds of hours each year."
In addition to providing new displays, Daktronics provided a comprehensive control solution for existing legacy displays. Daktronics installed Venus Control Suite at Alerus Center to connect the previously existing displays with the upgraded marquee and new concourse signage. The system pulls data from the venue's scheduling system to share with viewers as it assists them with wayfinding and knowing what is taking place in meeting rooms and ballrooms.
Alerus Center has multiple functional groups within the facility with different, unique needs. The outdoor marquee features advertising, the internal LCDs feature internal messaging for wayfinding and the LED displays feature live event messaging. All these specific needs are coordinated with Daktronics Venus Control Suite. The system can also create a moment of exclusivity with the same content on all the digital screens throughout the venue.
"The versatility of this system really can't be overstated," said Seth Koch, Daktronics sales engineer. "Third-party advertising can be sold on indoor LCDs and LED displays as a bonus for the venue and their customers. The same system can also be used to publish data-driven content to the LCDs in the concourse and event spaces. The effeminacies gained from them multiply operations team by using one control system for all the digital media on the property is a game-changer."
Daktronics has integrated with Ungerboeck, an event and resource management system, to help organize information and resources for multi-use facilities.
"Our Venus system can ingest the Ungerboeck data in real-time to publish that information to those displays at meeting rooms and ballrooms," said Seth. "This ensures the information in front of those doors is always up to date and accurate. Being able to inform the guest with real-time information and promotions allows for a better overall experience throughout the entire building, from street to seat."