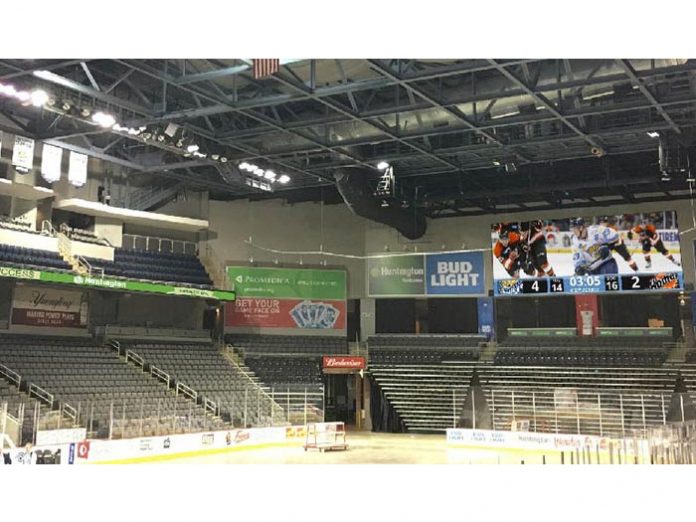 Daktronics has partnered with Huntington Center in Toledo, Ohio, to design, manufacture and install a new end wall video board and a new ribbon display. The video board will feature 2.1 million pixels, roughly 40 percent more than the previous display, to improve the experience at events starting this summer.
General Manager Steve Miller is eager to bring a new fan experience to the Huntington Center. "We are committed to maintaining the Huntington Center as a first-class facility and happy to partner with Daktronics," said Steve. "The expansion of the video and ribbon boards will significantly improve the event experience for our fans for years to come."
The new end wall video board will measure approximately 20 feet high by 50 feet wide and will feature the latest Daktronics indoor video technology. While using a 6-millimeter pixel spacing, it will bring excellent image clarity and contrast to viewers. Additionally, a ribbon display will be installed along the seating fascia of the venue measuring over 2 feet high by 600 feet long and featuring new Daktronics ribbon technology using 15-millimeter pixel spacing.
"The improved video board display will provide a new and better experience for the Huntington Center fans," said Lucas County Commissioner Pete Gerken. "Whether attending a sporting event or a concert, fans will love this spectacular new system. We are always seeking to improve our facility and strive to keep the Huntington Center at the front of the pack."
While using the next level of Daktronics Show Control System, the display will be capable of variable content zoning to show one large image or multiple zoned pieces of content including live video, instant replays, up-to-the-minute statistics, graphics, animations and sponsorship messages. Similarly, the ribbon display can show supplemental information to the main display as well as offering the opportunity to highlight sponsors throughout events.
"This project will bring a true high-definition experience to fans inside Huntington center for every event," said Ryan Stratton, Daktronics sales representative. "We're thrilled to be working with their team to bring this project to life and to increase the energy and experience for their fans. The final product will be amazing and we're looking forward to it having a positive impact for years to come."
A custom control system is including with the video and scoring equipment to provide an easy-to-use production solution for the centre. In addition to the equipment installation, Huntington Center will also receive a content package to be produced and delivered by Daktronics Creative Services.