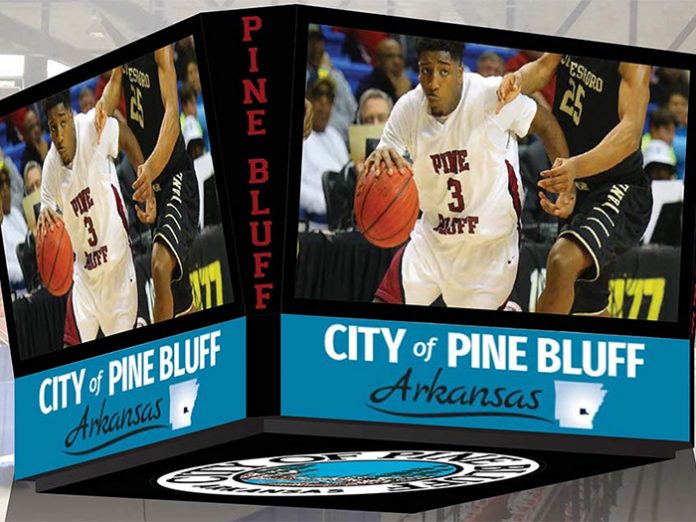 Daktronics of Brookings, South Dakota, has partnered with Pine Bluff Convention Center in Arkansas to design, assemble and install a new four-sided centre-hung video display system. The display will form the same square-shaped configuration replacing fixed-digit scoreboards with full video-capable displays this fall.
A recent press event was held to announce the project along with the return of the King Cotton Holiday Classic high school basketball tournament to be held at the venue. The tournament hasn't been played for 17 years at this facility, but the upgrades being made to the Pine Bluff Convention Center have revitalized the venue, the surrounding area and, ultimately, the basketball tournament.
"The new video display system, along with the many other upgrades we're making, positions our arena to draw in multiple sports and special events," said Joseph McCorvey, executive director of Pine Bluff Convention Center. "Everyone is excited about the new video capabilities with a focus on providing a great overall visitor experience. We host several graduation ceremonies that will benefit from this technology, not to mention the many other events we host such as sports tournaments, trade shows and business expos."
The new displays will each measure 6 feet high by 10 feet wide. All will feature 6-millimetre line spacing to bring crisp, clear imagery to every seat during every event held at the convention centre.
Each display is capable of variable content zoning allowing them to show one large image or to be divided into multiple zones to show any combination of live video, instant replays, up-to-the-minute statistics, graphics and animations, and sponsorship messages.
"Working with the Pine Bluff Convention Center was exciting and, at the press event earlier this month, I saw firsthand what the King Cotton Tournament meant to the state of Arkansas and the Pine Bluff community," said Connor Slepikas, Daktronics sales representative. "The new LED video displays will bring a whole new level of excitement to this historic tournament."
Additionally, two more video displays will be installed inside the arena to bring a virtual scoreboard look to game day. Each display measures 6 feet high by 14 feet wide and features 10-millimetre line spacing.
Two courtside LED scorer's tables were also installed as part of the project to allow for additional space to show statistics, animations and sponsorship messages. Each scorer's table measures 2 feet high by 9 feet wide and features 10-millimetre line spacing.
Daktronics LED video and messaging display technology offers a long lifetime with consistent, industry-leading performance and low power consumption, providing value and excitement for years to come.
www.daktronics.com