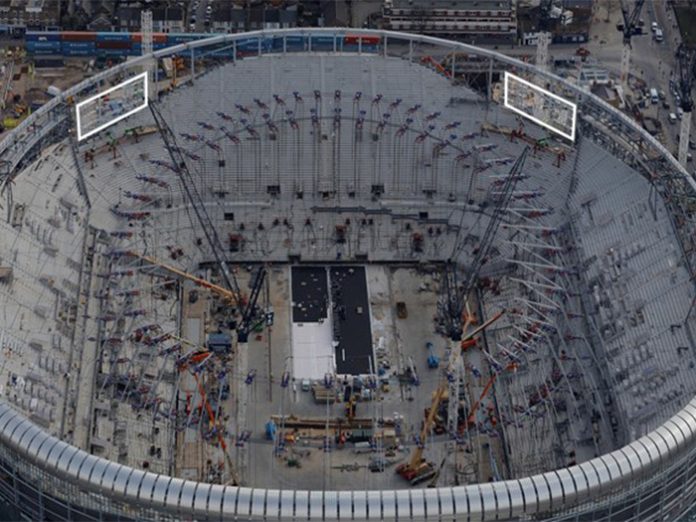 Within its brand-new 62,062-seater stadium Tottenham Hotspur not only aims to set athletic records. The club has now made an agreement with Daktronics to build LED video displays for the stadium bowl totalling more than 1,000 sq metres.
This includes two screens in the iconic, single tier 17,500-capacity South Stand, each measuring 325 square metres – making them the largest screens in any stadium in Western Europe and among the biggest in the world.
Two additional screens in the North Stand will each measure 190.7 sq metres, while two LED video displays will feature on the South West and South East façades, fitted on the exterior of the stadium, each measuring 178.9 sq metres. Every main display will feature 13HD pixel layouts to bring extra image clarity and contrast for everyone that visits the stadium.
The stadium bowl will also include three tiers of digital ribbon – a first for any European stadium. The upper and middle tier ribbons will run from the East to West Stands through the North Stand, measuring 387 metres and 348 metres long respectively, while the suite-tier ribbon will be split into two runs along the East and West Stands, measuring 122 metres long on the East Stand and 105 metres long on the West.
Original press release: http://www.tottenhamhotspur.com/