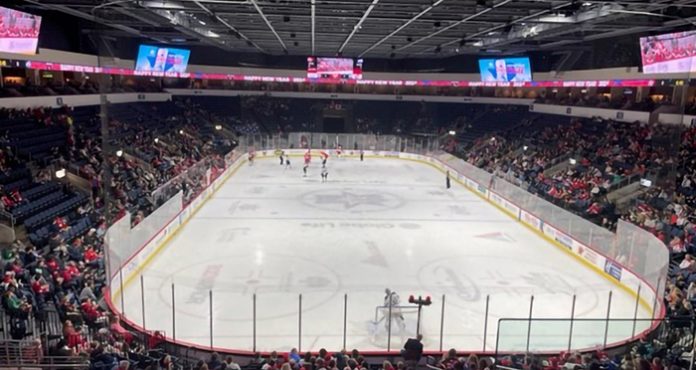 To improve the visual experience for event goers, Credit Union of Texas Event Center in Allen, Texas, has turned to Daktronics of Brookings, South Dakota, to design, manufacture and install seven new LED displays and an audio system. Six video displays and a new ribbon display are installed and operational to engage and inform audiences.
"The new displays and audio systems have made a huge impact at Credit Union of Texas Event Center," said Assistant General Manager at Credit Union of Texas Event Center Ross Girouard. "Obviously, they look and sound great, but there have also been major ease-of-use upgrades and new functionality that are allowing us to bring a more dynamic experience to everything we do."
The six new LED video displays each measure approximately 11.5 feet high by 31 feet wide and are located throughout the seating bowl to capture fans' attention. Each display features 5.9-millimeter pixel spacing to share excellent image clarity and contrast to further immerse viewers in the action.
Surrounding attendees, a ribbon display was installed along the seating fascia. It measures approximately 2 feet high by 880 feet long and features a 15-millimeter pixel spacing. This display offers the opportunity to supplement the main displays with information and statistics while also highlighting sponsors throughout events
"The technology enhancements to Credit Union of Texas Event Center elevate the live event experience for audiences and bring many more opportunities to the venue," said Brandon DeSmet, Daktronics sales representative. "It's extremely exciting to see these improvements and I'm looking forward to experiencing them in person in the future."
The six video displays are capable of variable content zoning which allows each to show one large image or to show multiple zones of content. This can include live video, instant replays, up-to-the-minute statistics and event information, graphics and animations, and sponsorship messages.
The new audio system is integrated into the video and scoring system to provide a booming audio experience with intelligible speech so fans can clearly understand all announcements while being surrounded in sound during events.
"The new loudspeakers, amplifiers and control equipment provides more energy for sporting events and large crowds at the arena," said John Olsen, Daktronics Audio sales representative. "Larger, more powerful loudspeakers and extended low-frequency array provides additional bass 'thump' to meet the demands of modern music. The richness and clarity of the system is a step up in performance that the fans and teams appreciate. We are proud of our relationship with Credit Union of Texas Event Center and look forward to supporting them for years to come."
Daktronics will also be including its powerful Show Control solution with this installation. This industry-leading system provides a combination of display control software, world-class video processing, data integration and playback hardware that forms a user-friendly production solution.