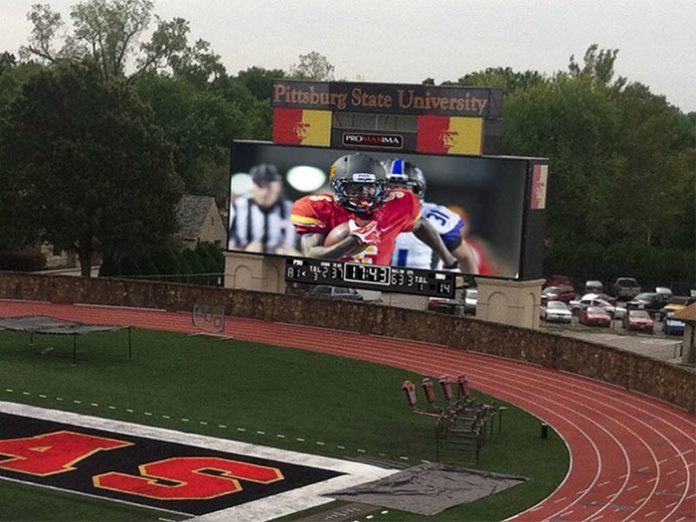 Daktronics (NASDAQ-DAKT) of Brookings, South Dakota, has partnered with Pittsburg State University in Kansas to design, manufacture and install a new LED video display for their football venue, Carnie Smith Stadium. Approximately 1,560 square feet of LED video space will be unveiled this summer.
"Pitt State Athletics is excited to partner with Daktronics on this important project," PSU athletic director Jim Johnson said. "Showcasing the best game-day experience in NCAA Division II is extremely important. When the university debuted the "Jungletron" 11 years ago it set the bar for game-day experience at a Division II football game. Now, due to wear and tear over the course of time as well as the changes in technology this is an appropriate time to revitalize that tremendous game-day atmosphere with this new display."
The new end zone display will measure nearly 23 feet high by 68.5 feet wide. It will feature a 15HD pixel layout to bring excellent image clarity and contrast with wide-angle visibility to fans in every seat. Industry-leading environmental protection ensures the display will perform at optimal levels during any weather.
"On behalf of everyone at Daktronics, I want to extend my sincere appreciation and gratitude to Pittsburg State University for choosing us for these exciting new technology updates for Carnie Smith Stadium," said Ryan Kuzman, Daktronics sales representative. "This new display and scoring equipment, along with our new state-of-the-art Show Control System, will be delivered to elevate the Gorilla GameDay fan experience to everyone who attends an event."
The display is capable of variable content zoning which allows it to show one large image or multiple zones of differing content. Live video, instant replays, up-to-the-minute statistics, graphics, animations and sponsorship messages can be shown individually or simultaneously on the screen to cater to every moment of the event.
Daktronics will also be including its powerful Show Control System with this installation. This industry-leading system provides a combination of display control software, world-class video processing, data integration and playback hardware that forms a user-friendly production solution.
In addition to the equipment installation, the university will also receive a content package that will be produced and delivered by Daktronics Creative Services.
A new custom scoreboard, new game clock, two new delay of game clocks and three new locker room clocks will also be included and integrated with the installation.
Daktronics has grown with the sports industry from the company's beginnings in 1968. Today, the company has LED video display installations at hundreds of colleges and universities across the United States.