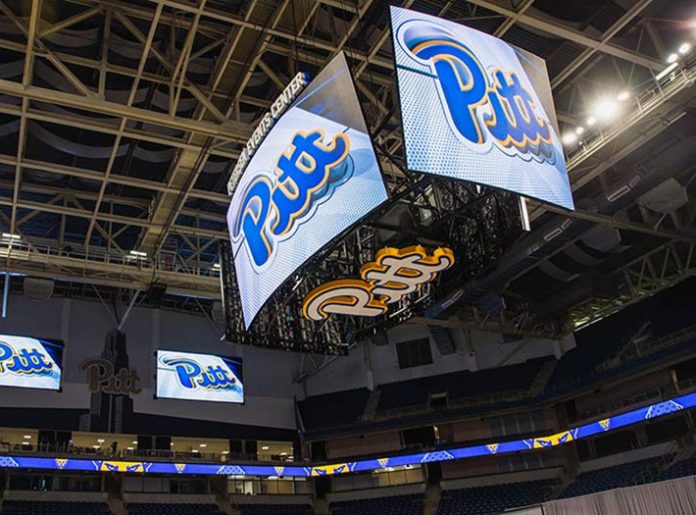 Daktronics has partnered with the University of Pittsburgh (Pitt) to deliver new LED video display technology to multiple athletic facilities on campus in Pittsburgh, Pennsylvania, including the first centerhung in collegiate sports featuring less than four-millimetre LED line spacing.
Fans of Pitt Panthers basketball, volleyball and soccer programs will be welcomed by a new visual experience on game day as Petersen Events Center, Fitzgerald Field House and Ambrose Urbanic Field have received new LED technology this fall.
"Thanks to a great partnership with Pitt Sports Marketing and our JMI Sports team, we have installed video boards that should help us create one of the best in-venue viewing experiences in all of college basketball," said Pitt Director of Athletics Heather Lyke. "When you combine the Oakland Zoo, the court flip, the addition of public Wi-Fi and now this video component, our commitment to enhancing the game-day experience for our fans is absolutely being realised."
Inside Petersen Events Center, the centerhung features four outward-curved LED video displays totaling eight million LEDs. Each display features 3.9-millimetre line spacing, the only collegiate display with line spacing closer than four millimetres. The sideline-facing displays each measure approximately 15ft high by 28ft wide and the end-line facing displays each measure 15ft high by 16.5ft wide. Two end-wall displays feature 10-millimetre line spacing and measure 16.5ft high by 31ft wide.
The Fitzgerald Field House, home of Ptt volleyball as well as wrestling and gymnastics, received two new end-wall LED video displays. Each features 5.9-millimetre line spacing and measures approximately 10ft high by 23ft wide.
The Pitt men's and women's soccer venue, Ambrose Urbanic Field, now has a new video display at the end of the field measuring 17ft high by 30ft wide and featuring 10-millimetre line spacing.
These displays are capable of variable content zoning allowing them each to show one large image or to show any combination of live video, instant replays, up-to-the-minute statistics, graphics and animations, and sponsorship messages.
"Daktronics is very proud to continue our long-standing partnership with the University of Pittsburgh," said Scott Willson, Daktronics sales representative. These new displays will have a tremendous impact in informing, entertaining and engaging fans, sponsors and student-athletes across the campus."
Petersen Events Center also received six LED scorer's tables. Each measures approximately 2ft high by 8ft wide and features six-millimetre line spacing. These tables can be set up in any configuration to show additional statistics, graphics and sponsorship messages during events.
In addition to the equipment installation, Pitt will be receiving custom digital content created and delivered by Daktronics Creative Services.