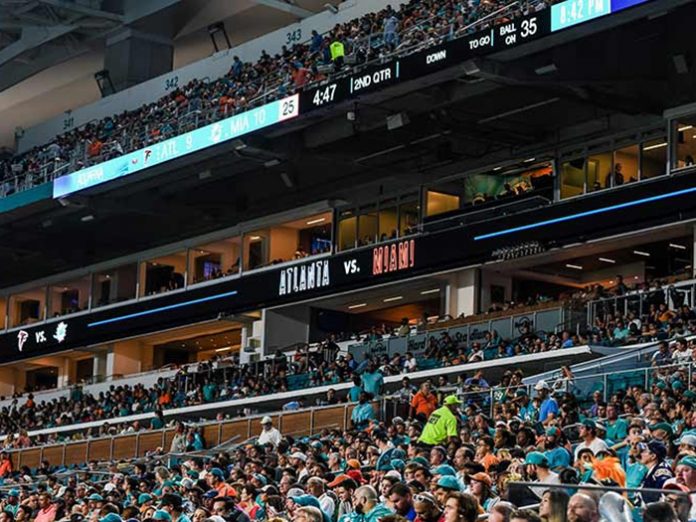 Daktronics (NASDAQ-DAKT) of Brookings, South Dakota, partnered with the Miami Dolphins to design, manufacture and install the longest continuous LED ribbon display in professional sports measuring 2,105 feet long for Hard Rock Stadium in Miami Gardens, Florida.
Installed this spring, the 360-degree ribbon will integrate with the existing Daktronics LED video displays in the four corners of the stadium, two ribbon displays and the exterior video board marquee to create an entertainment destination for their fans. Adding to the excitement of the new ribbon display, Hard Rock Stadium will host the biggest football game of the season February 2, 2020, as well as the college football championship in 2021.
The new ribbon display measures 3.5 feet high by 2,105 feet wide as it wraps around the entire seating fascia of the facility.
"This new ribbon display completes the fan experience in the seating bowl at Hard Rock Stadium by surrounding fans in LED lights to immerse them in the game-day action," said Kyle Adams, Daktronics regional sales manager. "We're thrilled to extend our long-term partnership with the Miami Dolphins with this installation as we continually help them to provide their fans with the best experience at their live events. We look forward to the success of this installation and our partnership for years to come."
Daktronics history with the Miami Dolphins dates back to 1993 and includes the first High-Definition LED video display installed in sports in 2006.
Daktronics has grown with the sports industry from the company's beginnings in 1968. Today, the company has integrated LED super systems in nearly 60 percent of all professional sports facilities in the United States.