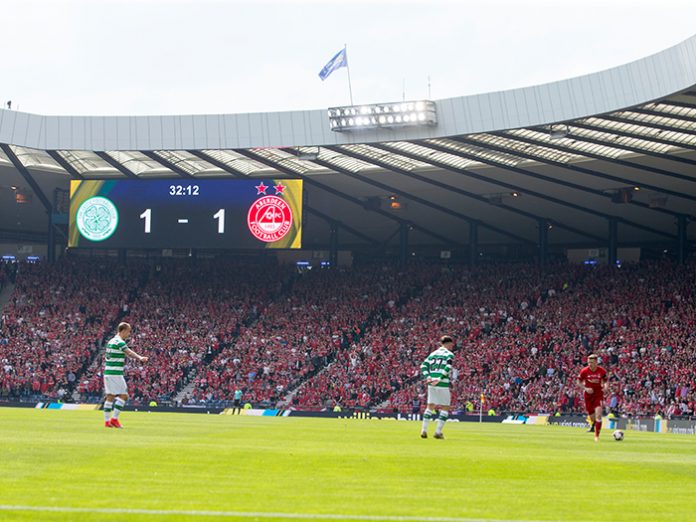 Hampden Park, Scotland's National Stadium of Glasgow, United Kingdom, and the Scottish FA have partnered with Daktronics (NASDAQ-DAKT) of Brookings, South Dakota, for the company to design, manufacture and install two new LED video displays that are twice the size of the previous displays. Installation of the displays was completed this spring and they are ready to entertain and inform fans on game days.
"The screens are simply awesome, but also an integral part of making the Hampden match day a more interactive experience for fans," said Scottish FA Chief Executive Stewart Regan. "They also create new advertisement and engagement opportunities for participating clubs, the Scottish FA itself and our sponsors and partners."
The installation of two displays, each featuring 13HD pixel layouts and measuring 5.49 meters high by 19.75 meters wide, was part of a plan to improve the stadium infrastructure and boost the spectator experience for the upcoming UEFA EURO 2020. Each display features more than 100 square meters. One display is installed at each end of the stadium to bring excellent image clarity and contrast with wide angle visibility to fans throughout the venue.
"The displays really enhance spectator experience as they add terrific color and vibrancy to the stadium," said Andrew Niven, the Scottish FA's UEFA EURO 2020 Project Leader. "We spent time reviewing UEFA EURO 2016 to understand how we could achieve full integration of the event and provide full infotainment to the spectators. We believe these new screens will enable Hampden Park to host a first-class UEFA EURO 2020."
"Daktronics handled everything first-class and in a tight timeframe from the decommissioning of the previous displays to the new steel frame and display installation through testing and programming," said Hampden Park Ltd. Managing Director Peter Dallas. "They succeeded through a robust tender process due to their quality, project management and final installation. They worked very well with all the parties involved to ensure every step of the process was approved and installed correctly. The result is an outstanding installation that we are delighted with."
The displays are capable of variable content zoning allowing each to show one large image or to be divided into multiple zones to show any variety of live video, instant replays, up-to-the-minute statistics, graphics, animations and sponsorship messages.
"With more display space, we're able to share more digital content than before to bring our brands to life and provide more information for spectators," added Dallas. "Viewing logos in a more enticing, 3D-like environment makes the visual experience more interesting and draws eyes to the screen. Providing new player introductions and animated graphics help to enhance key moments of the game giving those moments more of an impact for our spectators. It's a direct result of the bright colors of the new displays."
"We're thrilled to have been selected for this project and to provide a truly amazing experience for Hampden Park, their fans and the upcoming UEFA EURO 2020 tournament," said Ewan Prentice, Daktronics regional manager. "After the successful installation, we look forward to supporting Hampden Park and the Scottish FA in the future as they host many prestigious and exciting events."
Daktronics LED video and messaging display technology offers a long lifetime with consistent, industry-leading performance and low power consumption, providing value and excitement for years to come.