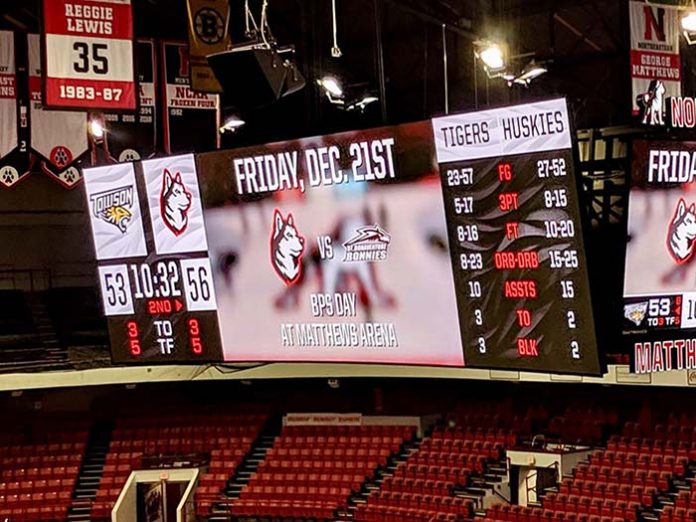 Daktronics of Brookings, South Dakota, has manufactured and installed a new four-sided centre-hung display system, two ribbon displays and a custom audio system at Matthews Arena on campus at Northeastern University in Boston, Massachusetts. The new audiovisual system will be unveiled on January 5, 2019, for the Huskies' men's hockey game.
"Northeastern is excited to bring a first-class video display to Matthews Arena as part of our project to integrate the latest technology in video and sound to enhance the game-day fan experience and atmosphere," said Marshall Foley, executive senior associate athletic director for operations. "We are also proud to partner with Daktronics on this endeavour to install the best collegiate videoboard in all of New England. One of our goals is to utilise this new technology to engage with students as part of the game-day atmosphere in ways that have never been seen before, and we welcome everyone to come out and enjoy the new experience in person."
The new centre-hung forms a large rectangle shape above the playing surface in Matthews Arena. The two sideline-facing displays each measure 13.5 feet high by 50 feet wide featuring an inward curvature. The two end-facing displays each measure 9.5 feet high by 13.5 feet wide. All four displays feature tight 6mm line spacing to provide crisp, clear imagery to fans in every seat of the arena.
"We are excited to see this project come together at such a historic venue," said Dave D'Amico, Daktronics sales representative. "Northeastern's centre-hung is now among the largest indoor video displays on the east coast. The sheer size will bring an amazing game-day experience to Huskie fans, on par with any professional sports venue in the country."
Each video display is capable of variable content zoning allowing each to show one large image or to be divided into multiple zones to show any combination of live video, instant replays, statistics and game information, graphics and animations, and sponsorship messages.
Two ribbon displays will be installed at each end of the arena. Each ribbon display measures 3ft high by 30ft wide and features 10mm line spacing. These provide the opportunity to highlight sponsors throughout events while also showing supplemental content to the main displays.
The custom Daktronics audio system was integrated into the video and scoring system to provide a powerful audiovisual experience for everyone in the arena. Clear, intelligible speech and booming bass bring a next-level entertainment aspect to the venue.
Daktronics will also be including its powerful Show Control System with this installation. This industry-leading system provides a combination of display control software, world-class video processing, data integration and playback hardware that forms a user-friendly production solution.
In addition to the equipment installation, Northeastern University will also receive a content package that will be produced and delivered by Daktronics Creative Services.
Daktronics LED video and messaging display technology offers a long lifetime with consistent, industry-leading performance and low power consumption, providing value and excitement for years to come.