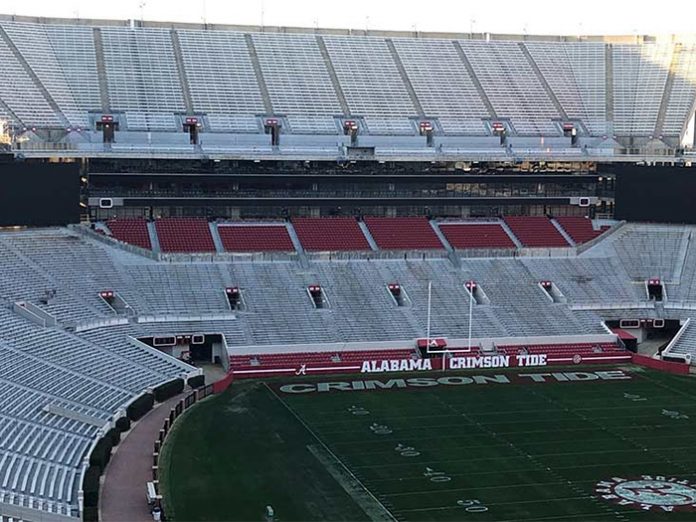 Daktronics has continued a long partnership with the University of Alabama to install new LED video displays at Denny Bryant Stadium in Tuscaloosa. Four new corner video displays and a high-resolution tunnel display are being installed in 2020.
The four corner video displays total more than 8,000 square feet of digital display space. Each display measures 30 feet high by 67 feet wide and features 10-millimeter line spacing to bring excellent image clarity and contrast to Crimson Tide fans in every seat of the stadium.
A new tunnel feature at the stadium includes a high-resolution LED video feature with 1.9-millimeter line spacing. At approximately 72 feet long and tapering from 8 feet high to 11 feet high, this display totals roughly 700 square feet to bring an exciting, energetic ambiance as student-athletes and coaches pass by from the Walk of Champions through the tunnel into the locker room.
"It's going to be exciting to see this never-been-done-before tunnel feature at a football stadium light up on game day this fall," said Glen Marts, Daktronics sales representative. "We're thankful for our long-standing partnership with Crimson Tide Athletics and are looking forward to these new LED video displays enhancing the experience."
The corner video displays come complete with today's state-of-the-art technology to meet fans' expectations at live events. They are capable of variable content zoning allowing each to show one large image or to be divided into multiple windows to show any combination of live video, instant replays, up-to-the-minute statistics, graphics and animations, and sponsorship message.
These displays allow the university and venue the flexibility to show live event information combined with the opportunity to highlight sponsors throughout events.