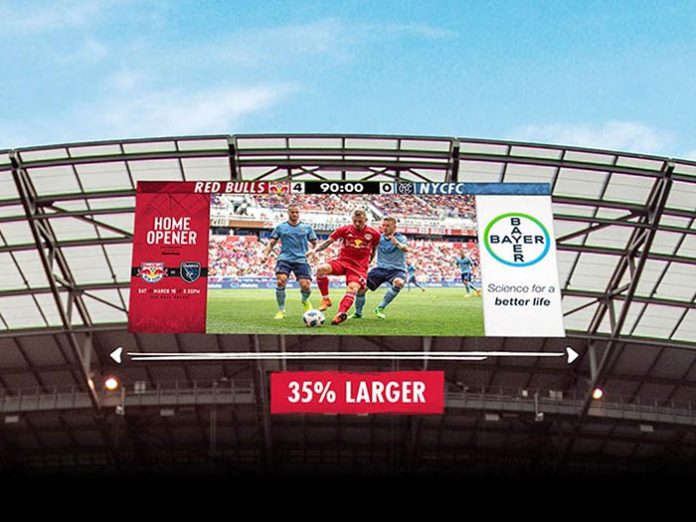 Red Bull Arena, home to professional soccer's New York Red Bulls, received a new LED video display system from Daktronics (NASDAQ-DAKT) of Brookings, South Dakota. Two new 1,325 sq ft displays were recently installed at the venue in Harrison, New Jersey, to inform and entertain audiences at every event.
A new LED video board is positioned at each end of the venue. Each measure 24 feet high by 55 feet wide and features 10-millimetre line spacing to bring an improved visual experience, including wide-angle visibility, to fans in every seat.
Live video, instant replays, statistics, graphics and sponsorship messages will be brought to light with these new video boards. Each is capable of variable content zoning which allows each to show one large image or to be divided into multiple zones to show any combination of content at any moment during the event.
"The new technology at Red Bull Arena will elevate an already fantastic fan experience for the New York Red Bulls and other special events held at the venue," said Peter Dunkle, Daktronics sales representative. "We're grateful to partner with such a great team to bring this video board project to life. We're looking forward to seeing them have a positive impact for many years to come."
Integrated into the video system, Daktronics included its powerful Show Control System. This system provides an easy-to-use interface for event production while combining video processing, data integration and playback hardware in one robust control solution.