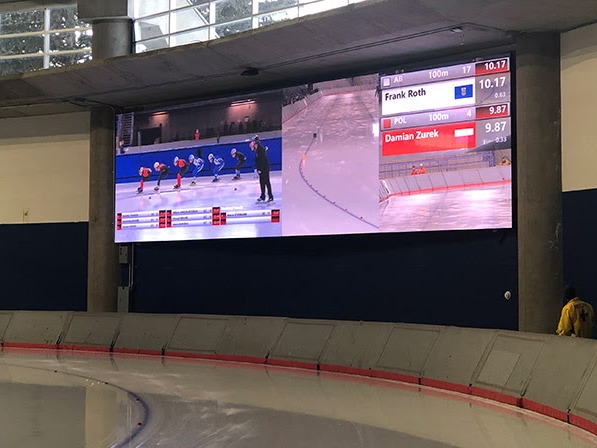 Daktronics has partnered with the Olympic Oval in Alberta, Canada, to deliver two new LED video boards and control equipment. Everything for the project was manufactured and installed in 2018 to be fully operational at the start of the 2019 calendar year.
"The Olympic Oval strives to have a 'Game Ready' concept that allows us to host all events very easily," said Jamie Seguin, Olympic Oval associate director, marketing, sponsorship and events. "From club racing to international events, this capacity allows the Oval to lead the world in video delivery for speed skating. The addition of these screens, the versatility they add, further evolves the quality of the amazing daily training environment that the Oval offers to all clients. Daktronics aligned with our vision for this project and has delivered on that idea."
A new main video display was installed at one end of the venue featuring 650 square feet of video display space. It employs 6-millimeter line spacing and measures 12.5 feet high by 52 feet wide. Additionally, a portable display featuring the same 6-millimeter line spacing and measuring 12.5 feet high by 25 feet wide was provided to the Olympic Oval. This display can be moved to different locations throughout the venue to maximize viewing during any event.
"This video display project brings a flexible and unique visual experience to the Olympic Oval," said Brady Jacobsen, Daktronics regional sales manager. "The ability to move the large portable display to various locations for different events will help the venue maximize their visual components for all audiences. All of this new equipment will produce a positive impact for the Olympic Oval for years to come."
Both displays are capable of variable content zoning allowing each to show one large image or multiple zones to show any combination of content. Live video, instant replays, statistics and event information, graphics and animations, sponsorship messages and more can be shown to inform and engage audiences.
Custom Daktronics control components were delivered and integrated with the installation including front end video equipment. This equipment helps connect the new displays with an existing Daktronics LED display for a cohesive visual experience for all audiences and events within the venue.