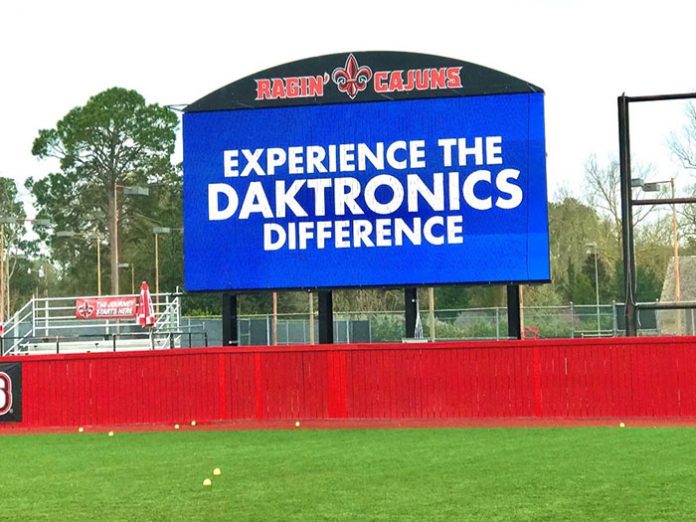 Daktronics (NASDAQ-DAKT) of Brookings, South Dakota, has partnered with Louisiana Ragin' Cajuns Athletics to design, manufacture and install a new LED video board for the school's softball stadium, Yvette Girouard Field at Lamson Park. Installation of the new technology was recently completed and in place to inform and entertain fans for the 2020 season.
"The new 30ft Daktronics video board at Lamson Park is an incredible enhancement to a first-class facility," Director of Athletics Bryan Maggard said. "Our nationally-ranked softball program is certainly deserving of such an addition to their ballpark, and we owe it to the incredible support of a number of key investors from within our softball fanbase."
The new outfield display measures 14.5ft high by 30ft wide and feature 10mm line spacing with SMD (Surface-Mount Device) LED technology to bring excellent image clarity and contrast to images shown on the display. It features industry-leading environmental protection to ensure it operates as expected in the outdoor elements of Louisiana.
"This new display will bring an added element of excitement to the game-day experience for Ragin' Cajuns fans," said Andrew Rice, Daktronics sales representative. "Everyone at the university was great to work with on this project and we're looking forward to this display having a positive impact for years to come."
The display is capable of variable content zoning allowing it to show one large image or to be divided into multiple zones to show any combination of live video, instant replays, statistics and game information, graphics and animations, and sponsorship messages.
Include with the equipment installation, the Ragin' Cajuns will also receive a digital content package to be produced and delivered by Daktronics Creative Services.