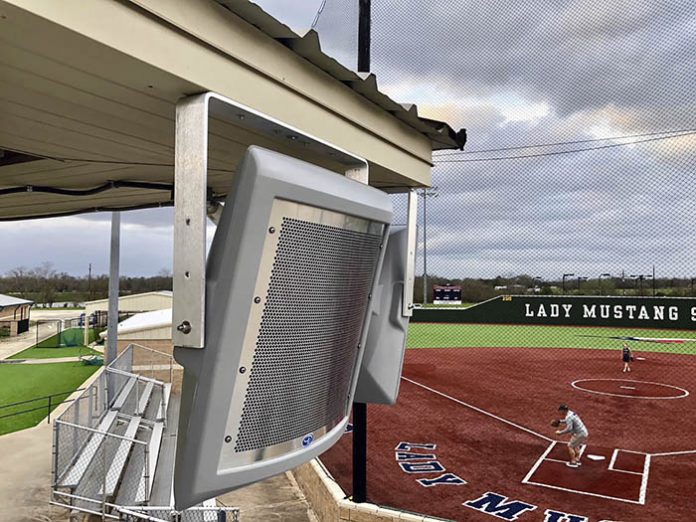 Romeo Music recently designed and installed a new sound reinforcement system at Madisonville Consolidated Independent School District for the baseball and softball fields; utilising Danley Sound Labs' new high-fidelity OS12CX fully-weatherproof loudspeakers.
Romeo Music Regional Sales Manager, Kevin Deal explained: "The original sound system for the fields used several small, 'honky' horns, which were okay for pages but didn't do so well with music,"
"Madisonville played two seasons without a sound system! Romeo Music provides a lot of equipment for the school, and we've developed a good relationship over the years. The school officials lost confidence in the A/V integration firm that had originally been hired to install a new sound system, they asked us if we could provide that same service.
"The budget was tight, but Danley has bailed me out of other budget situations because I need so many fewer Danley boxes compared to designs with conventional boxes and because Danley boxes are, in my opinion, underpriced relative to their performance."
Madisonville CISD wanted a sound system that could give clear, intelligible pages to each field with minimal crosstalk and that could capably play music before games and between innings. Covering the fields themselves was not a priority, but the school hoped there would be some spill for the teams during warm-up.
"We've had a lot of success with our Danley systems in the past," Kevin said.
Kevin noted that it rained for fully half the time they were installing the system, an indication of the conditions the loudspeakers would endure in the days, months, and years to come. Kevin was impressed with the strength and weather-readiness of the mounting brackets and hardware.
Kim Comeaux [Anderson Sales & Marketing, area Danley rep] recommended the new Danley OS12CX, which is a shorter-throw box with a wide coverage pattern.
Importantly, it is completely weatherised, which would be important for any outdoor system, but especially so in the humid rain belt between Dallas and Houston. As soon as we fired them up, I was like, 'yep, made the right decision!'"
Four Danley OS12CXs mounted on the press box cover both fields (two to a field), with angles and positioning so as to maximise coverage and minimise overlap. A four-channel QSC PLD4.5 provides abundant power to the system, with integrated DSP to allow modest equalisation and overload protection. Two new microphones and an Allen & Heath two-zone mixer complete the tidy system.