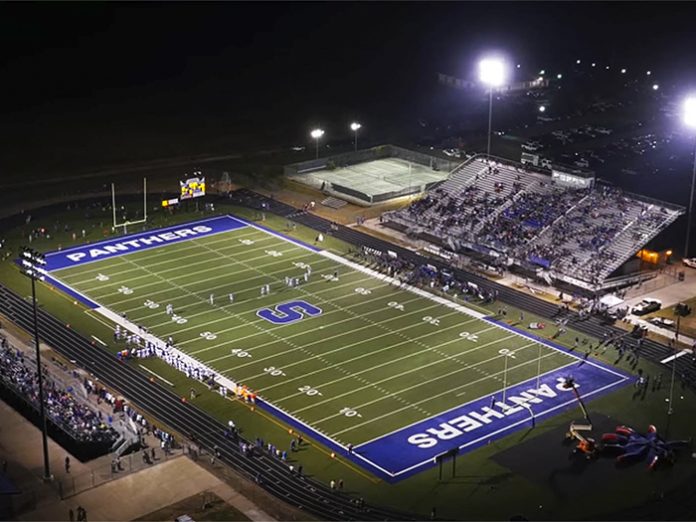 The Sterlington High School Panthers football team was runner up in Class 3A football in the state of Louisiana in 2018, and high school football plays a huge role in the rural community of Sterlington and Ouachita Parish. The Panthers play in Sterlington Stadium, which can pack in nearly 4,000 screaming fans on a good night. After fifteen years with a sound system that never quite lived up to expectations, local music store and AV integrator Matt's Music designed and installed a fully-weatherized Danley Sound Labs sound reinforcement system that delivers excellent intelligibility and big SPLs from an end zone scoreboard.
"Sterlington Stadium had a pair of loudspeakers out on the scoreboard that were not working well," said Tony Cortellini, sales engineer with the contracting division of Matt's Music. "They had aged, but the school wasn't able to come up with a budget to replace them. So, they asked us to refurbish the existing loudspeakers and move them to light poles nearer the stands. That was a passable solution until a tornado hit the stadium and knocked the poles to the ground. They finally had to replace the scoreboard and wanted an attached sound system. Since they were looking for a long throw from the score board, I immediately thought of Danley."
"Tony reached out to me regarding the design of a Danley system at Sterlington High School, and we agreed that a Danley demo would give the school peace of mind that they were making the right decision," said Kim Comeaux, western sales manager at Danley. "Based on the layout of the field and stands, we demoed the Danley SH46 for coverage of the home stands and field and the Danley OS80 for the visitor stands. They immediately loved it! But doing their due diligence, the school arranged a second demo with another loudspeaker manufacturer. Danley was the clear winner on sound quality, coverage, and total final price."
As the school had to adhere to their budget, they opted to forgo subwoofers in favor of broad coverage that would also include the far end zone, where a significant number of spectators regularly gather for games. To deliver that broad coverage, Tony manufactured custom brackets for the Danley SH46s so they could fire horizontally to give a combined 120 degrees of coverage. A single Danley OS80 covers the smaller visitor side bleachers. All three Danley boxes are fully-weatherized and ready to take on the subtropical Louisiana summers. A single four-channel Danley DNA 10k4 Pro amplifier, with integrated DSP, powers the system. "I've learned my lesson on Danley amps," Tony said. "I used to put in other manufacturers' amps, but the Danley amps are loaded with Danley-specific presets that work perfectly with all of their models. It's just so superior and makes the entire Danley system work at maximum efficiency."
Tony continued: "Danley has been my go-to for several years. Tom Danley's patented synergy-horn technologies sound amazing, even at a distance. They've got the power. They're made in the USA. Danley offers me great factory support, and they're always ready to offer demos for prospective clients. Add up all those reasons, and Danley is a rock solid way to go for me." During the commissioning and training, Tony walked the field and the stands with the Sterlington High School principal, the football coach, and other members of the staff with an interest in the system. The coverage was even, and the sound quality and volume were levels above where they had been previously.