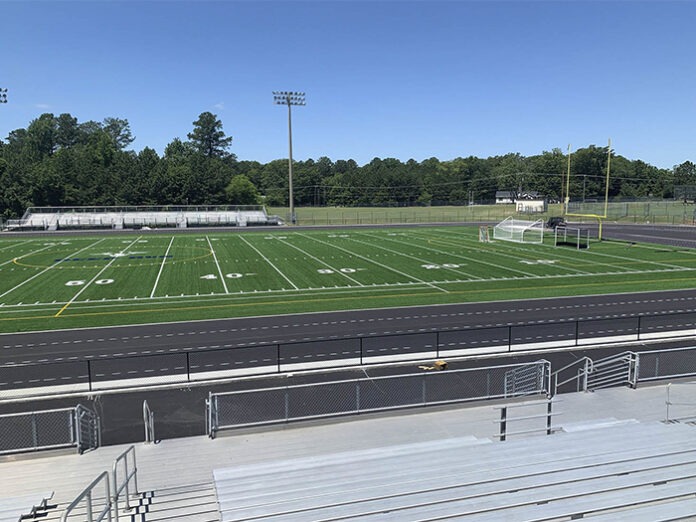 As the Henrico County, Virginia school system slowly rolls out a turf upgrade for all of its high school football stadiums, the Deep Run High School Wildcats are the lucky recipients of the first upgrade. Attendance at the games is a regular part of Friday-night football culture in the suburban-Richmond area. To give a sense of its size, the Deep Run stadium held over 8,000 people for a Sarah Palin rally in 2008. As part of the entire upgrade, Deep Run High School local AV integration firm RTW Media installed a new, concert-level sound reinforcement system comprised of Danley Sound Labs OS80 fully-weatherized loudspeakers and stand-shaking TH118XL subwoofers. The other schools in Henrico County will follow Deep Run's lead in the coming years.
"High school football is a huge part of life in southern Virginia," explained Zack Guida, logistics manager at RTW Media. "Everyone pours tons of time, energy, and resources into football: students, parents, coaches – even the administration! Deep Run's existing system was in the neighborhood of twenty years old and was barely able to effectively deliver announcements, let alone play music that anyone would call inspiring. It was a pair of tired speakers mounted to a pole far away – beyond the end zone. It had terrible coverage and zero horsepower."
He continued: "We have used Danley's 'standard' press box-mounted high school football design in the past, and we knew it would be a great solution for Deep Run. We could mount Danley's fully-weatherized OS80s on the press box and get even coverage across the stands. We don't end up overpowering the folks who are close to the press box, and the Danley point-source technology cuts the air, travels far, and remains articulate."
Despite Zack's confidence that a Danley system would give Deep Run High School the kind of performance that would get the community excited and despite the fact that a Danley system would be quite affordable, there were definitely cheaper options out there. "Sometimes it's hard to explain to somebody why they shouldn't just go with the same lackluster system the county has been using for the past decade," he said. "The easiest way to convince them is with a demo. RTW Media partnered with the regional Danley rep to show them the Danley difference. It was just a single Danley OS80 and a Danley TH118XL subwoofer. We were less than a minute into the demo and everyone was nodding their heads, convinced!"
Zack and his team installed three Danley OS80s on top of Deep Run High School's press box. One fires across the field, and the other two cover the left and right portion of the home-side stands. A pair of Danley Go2 8CX loudspeakers provide front fill for spectators near the press box. By itself, that system would have been impressive, but a pair of Danley TH118XL subwoofers take it over the top with concert-level subwoofer performance.
"If you've ever been to a typical high school football stadium, Deep Run is something else," Zack concluded. "This school will rock out!"