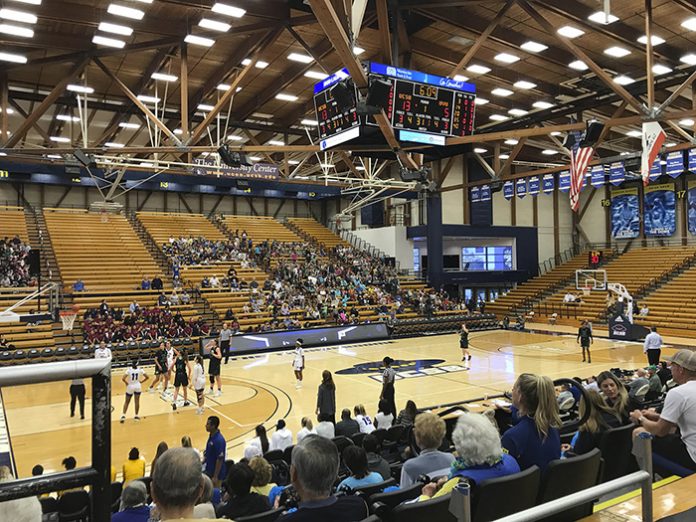 University of California, Santa Barbara athletic teams go by the name "Gauchos" and have been successful even without a football team to anchor the program. In fact, the Gauchos baseball team won the Big West Conference Championship in 2019. They play in the 1,000-seat Caesar Uyesaka Stadium. The men's volleyball team plays in the 3,000-seat Robertson Gymnasium, and the women's volleyball team and both basketball teams play in the 5,600-seat UCSB Events Center, more commonly referred to as "The Thunderdome." All three venues recently benefitted from sound system upgrades led by area audio consultant Ara Ayrassian and his company, Audio 77. A modest number of high-efficiency, high-fidelity, point-source Danley Sound Labs loudspeakers now give Gauchos fans an impressive game-day experience.
"I met the men's basketball coach, Joe Pasternack, a few years ago when he first joined the team," Ara recalled. "He said the sound in the Thunderdome was bad. The announcements were unintelligible and the music lacked impact. The system was a decade old, but its real problem was too many speakers. All the phasing and comb filtering was headache-inducing! Danley's patented technology could get the job done with a fraction of the speakers." Although the conversation started with the Thunderdome, Ara consulted on Caesar Uyesaka Stadium and Robertson Gymnasium first. A UCSB crew performed the actual installations.
Ara began with a simple demo of a single Danley OS80 fully-weatherized loudspeaker as proof of concept at the baseball stadium. "We placed a single OS80 on the press box, walked to the centre fence, and turned it up," he said. "It was really nice sounding. I let them use that box for an actual game, and they were sold." For the permanent installation, Ayrassian specified two Danley OS80s, one aiming down the first base side and the second aiming down the third base side. At the Robertson Gymnasium, where there is no seating at the ends of the court, he specified just two Danley OS12CX loudspeakers, one aiming at each side of the court.
The Thunderdome came last, and Ara effectively replaced thirty-six distributed loudspeakers with just eight Danley OS80s and one Danley BC415 subwoofer. The OS80s hang near the centre scoreboard, with two each hitting each side of the stadium. "For this installation, I wish I had a video of the coaches and athletic directors when we first fired the system up," he said. "It was overwhelming. The deputy athletic director kept shaking my hand! And the cost of the Danley system in the Thunderdome was so much less than the previous, vastly-inferior system! We replaced nine amplifiers with just a single four-channel Danley DNA 20k4 Pro. And the bass from the Danley BC415 is absolutely phenomenal. The boundary coupling technology that Tom [Danley] came up with is amazing. Some of the sound techs from UCSB showed up and we listened to it up close, turned it off, walked to the far side of the stadium, and turned it back on. Again, I wish I had a video of their reactions!"
Ara continued, "Danley's Synergy Horn technology delivers huge sound with relatively small number of these small boxes. It's really untouchable. The proof is in the Thunderdome, where the sound is way better. As a designer and consultant, Danley makes it easy. Just a few well-placed boxes get the job done without trying to nuance a bunch of loudspeaker angles."