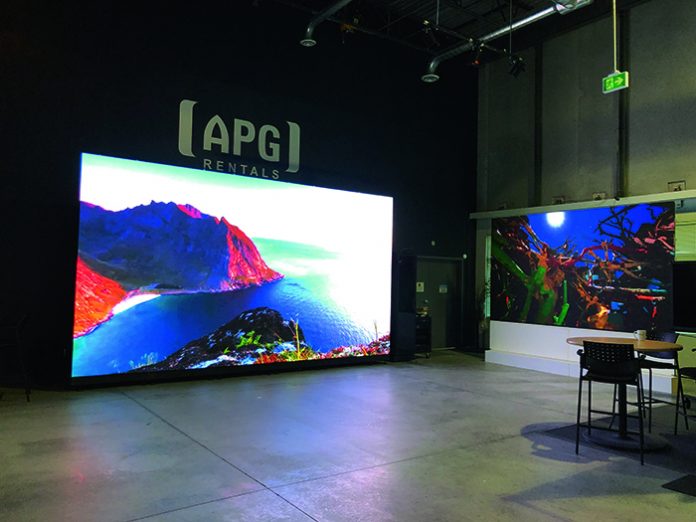 Tech entrepreneur, David Weatherhead has announced that he plans to expand APG Rentals into a full-service LED videowall and media technology powerhouse called APG Media Group that will be comprised of APG Rentals, APG Distribution, and APG Technical Services.
According to David, the company will grow both its U.S. and Canadian operations by opening a larger Canadian headquarters this winter in Toronto and expanding its current U.S. headquarters in Orlando, Florida. Both headquarters will include full line showrooms, training centres, test labs, and extensive warehousing.
The investment, he emphasised, represents a tremendous opportunity for APG Media Group to bring to market the new and exciting technologies that customers are demanding. It will enable APG Media Group to excel in the growing North American market as companies expect to be able to access the latest in LED videowall technologies and solutions backed by the industry's most knowledgeable subject matter experts, training staff, and installation consultants. Every installation must be a success for the integrators, production companies, and broadcasters the company serves.
"The sale of Advanced provides me with the capital to invest in a huge and rapidly growing business opportunity to meet the needs of an increasingly video centric world," David continued: "Our focus will be on the channel, and our goal is to create a new platform for the market to leverage APG's deep skillsets in large-format and unique video display technologies." And, while APG is already very well staffed, the company is now aggressively hiring for various positions in both rentals and distribution sales.
"The business opportunity goes beyond AV, IT or live events," he emphasised. "APG Media Group is a technology company that enables the channel to be successful by serving as a true-value add rental partner, distribution resource, and media consultant for display technologies." In addition to servicing venues, trade shows, broadcast studios, and more, APG Media Group also caters to other rental and staging companies that are looking for a turnkey videowall expert to handle display installation.
The introduction of APG Media Group comes at a time when APG Rentals has been enjoying tremendous market growth both in Canada and the United States, where business has been booming. "APG Rentals has grown 20% year-over-year for the past five years," he revealed. "Our clients are looking to make the most compelling and most lasting impact – and videowalls and the new technology we will be introducing, are a great way to do that. APG Media Group is going to build and expand upon its current stronghold as a leader in the large and unique specialist display market."
According to David, a huge market shift from projection to LED displays is taking place that is driving the demand for next-generation LED videowall technologies. "Customers are asking for the highest resolution displays out there, which is why it's imperative that we're stocked with cutting-edge and emerging technology, and crucial that our technical team is experienced in complex installations," he said.
Looking to the immediate future, David said the company would soon be making a number of announcements involving some very large and prestigious projects. "Video is the dominant media of our age," he asserted. "Regardless of where and when an event or experience is being held, indoors or outdoors, it is video that delivers the 'wow' factor that turns the ordinary into the extraordinary."