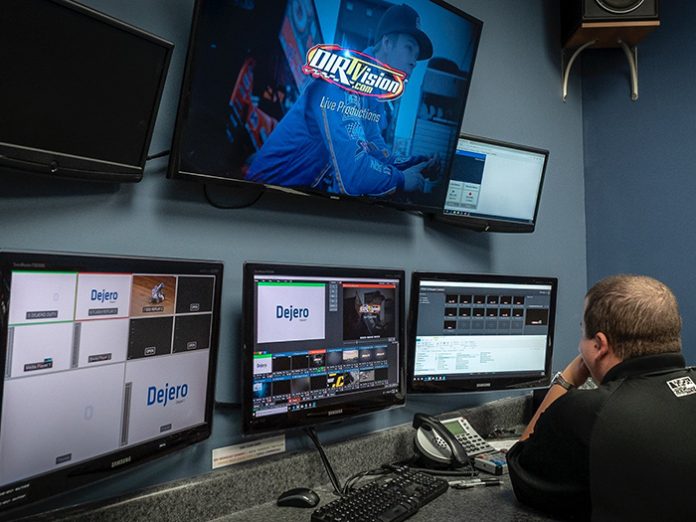 Dejero has provided its CellSat blended cellular and Ku-band IP satellite solution to World Racing Group (WRG), the premier sanctioning body for dirt track racing in the United States and Canada.
The network blending capabilities of CellSat have allowed WRG to live stream 100% of its premier racing schedule, from more venues than ever before. Reliably providing high-quality video, the CellSat service is reducing resources needed, cost, and set-up times for WRG. Since adding CellSat to its workflow in April 2018, WRG's social media profile has sharply risen, with exponential growth in live fan engagement during races.
"Thanks to Dejero CellSat, we can now live stream up to 125 productions a year across North America," explained Brian Dunlap, director of broadcast services at World Racing Group. "Up to this point, we were limited by technology only streaming a maximum of 50 events a year, a number we had been slowly growing since we started streaming content back in 2004. Now we can stream every single one of our races reliably even when cellular networks are congested." WRG's equipment is housed in a 26ft mobile production unit that travels up to 45,000 miles per season.
The Dejero CellSat connectivity service uses intelligent network blending technology that analyses the characteristics of up to six cellular connections and the Intelsat Ku-band IP connection in real-time. The Dejero algorithm dynamically and intelligently manages the fluctuating bandwidth and latency, choosing the optimal path for delivering the IP packets to the playout destination, using a combination of cellular and satellite connectivity. CellSat connects to a full production switcher capable of a multi-camera shoot, then back to the main production studio based in North Carolina. A maximum of two people are required on-site, with another manning the desk back at base. Being able to perform all broadcast and streaming tasks from within a mobile production unit has taken away the burden of setting up all the equipment out of flight packs at each event for WRG.
"The satellite capabilities of CellSat have been a critical part of our success this year, because they allow us to work independent of the cellular bandwidth available at remote venues," added Brian. "Cellular coverage due to large crowds often dips dramatically at key times, especially at the start of a race. Seamlessly rolling over to satellite using CellSat mid-stream activation, means we don't have to skip venues during the racing season and can bring fans the very latest racing news, live, from every single race. The reliability and the ability to do more, to work in more places thanks to CellSat has really changed the game for WRG."
CellSat intelligently blends cellular connectivity from multiple mobile network providers with Ku-band IP satellite connectivity from Intelsat, reliably delivering the bandwidth needed to transmit broadcast-quality video in real-time. The fast, low-latency CellSat network can be accessed from virtually anywhere and since it's available from a single provider, procurement, management and billing are greatly simplified.
The Dejero CellSat solution includes equipment, software, and connectivity services to the CellSat network—all managed in the cloud, and backed with industry-leading technical support. "We are thrilled to hear that CellSat has expanded the remote production capabilities of WRG as it live streams its races from venues across the country, which typically don't have fiber to deliver the feeds," said Kevin Fernandes, VP sales, Dejero. "Dejero CellSat provides the reliability and flexibility that broadcasters need to deliver a high-quality stream from remote locations, while saving time and resources."