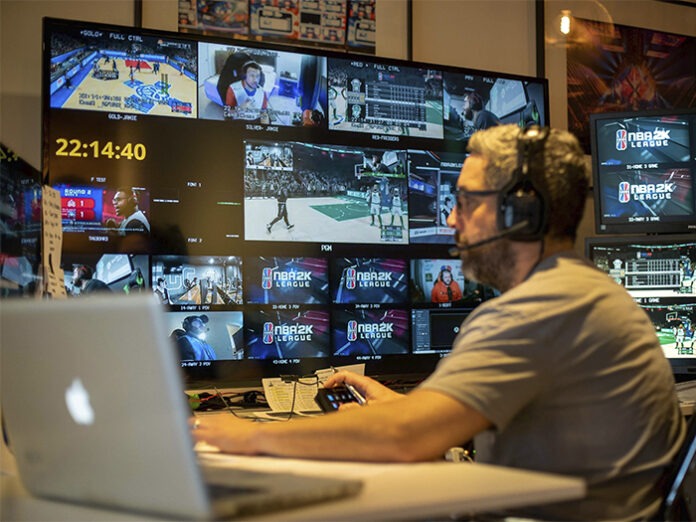 Dejero has provided the NBA 2K League with a variety of remote connectivity equipment, via Defacto Entertainment and facilities partner Dome Productions, to help the professional esports league save its third season threatened by the ongoing COVID-19 pandemic that prevented its 23 teams from gaming together in the league's new Manhattan studio. The esports league shifted its entire season 3 production from a studio-based model to a large-scale pan-North-America remote gameplay production model in record time, with the help of Dejero.
"Our new Manhattan studio was evacuated suddenly during the COVID-19 shut down in New York just as our highly anticipated season 3 was about to start from the league's new home," said Chris Mitchell, senior account manager of Client Solutions at Dome Productions. "With our production partner, Defacto Entertainment, we worked to find a solution to help us move the entire production and transmission pipeline to a remote model that combined live video feeds from 27 cities across the US and Canada, which is a massive undertaking. I'm really proud that the team was able to think innovatively without much breathing room and that we could rely on hero suppliers such as Dejero."
During previous seasons, the players would compete inside the NBA 2K League studio in Long Island, New York, on a centre stage, with six different teams competing throughout the day. The games air on multiple digital and linear platforms including ESPN, YouTube and Twitch, a gaming platform owned by Amazon that houses a range of esports. Dome Productions had to figure out how to move this production to a remote setting quickly once the pandemic hit.
To bypass the security challenges posed by the open source networks used by the teams from their homes, and to address fluctuating bandwidth in those various locations at peak traffic times, Dejero provided a combination of EnGo mobile transmitters and PathWay rack-mounted encoders/transmitters to Dome Productions. This low latency video transport solution was key to forming the sterilized plug and play kits that were distributed to the competing teams across North America, in order to deliver the signal strength needed in a local network that may otherwise be congested, so Dome Productions could guarantee reliable connectivity on location. As the players set-up the equipment at their homes, Dome Productions' technical support team were able to configure the encoders/transmitters remotely and operators are tasked with checking the connections in each location daily throughout this last season of 2020, which runs until the end of August.
An NBA 2K League game administrator oversees each match remotely by monitoring each player's movements via live video. Game administrators are able to hear and communicate with players directly in real time. Each match is played in a best-of-three format, which allows the NBA 2K League broadcast to switch between games in real time and gives fans more opportunities to experience the league's most exciting moments.
The Dome Productions control room located in Toronto is receiving, mixing and distributing a large number of live feeds from teams playing in 23 different cities aided by the Dejero WayPoint receiver; live feeds from two 'casters', located in Chicago and North Carolina respectively provide live commentary for the games; with Defacto Entertainment producing and directing the broadcasts in real time from their offices in Vancouver. The low latency of the Dejero CuePoint return video server ensures that the casters in Chicago and North Carolina can comment on live feeds without lag. Dome Productions also enjoys the ability to remotely access the Dejero equipment to check parameters like bitrate and latency.
The backbone to Dejero's solutions is its patented Smart Blending Technology which simultaneously aggregates diverse wired and wireless IP connections from multiple sources to form a virtual 'network of networks', enhancing the reliability of connection paths, expanding coverage and delivering greater bandwidth.
The games are not only distributed live over Twitch but are now being picked up by the more traditional sports broadcasters such as ESPN in the US and SportsNet in Canada, turning esports into mainstream viewing while the usual sporting events are put on hold. The advantage of this new production environment is that multiple games can be produced at one time which is boosting viewership, something that was not possible out of a single studio.
"Dejero has allowed us to network the entire system and create a low latency game play and production value around all these local markets tied in together remotely," added Brian Carr, who is responsible for distribution and emerging technology at Dome Productions. "We have had a very successful third season so far despite the challenges we faced. We wanted to keep the NBA 2K audience alive, especially when we were just about to kick off a season everyone was excited about."