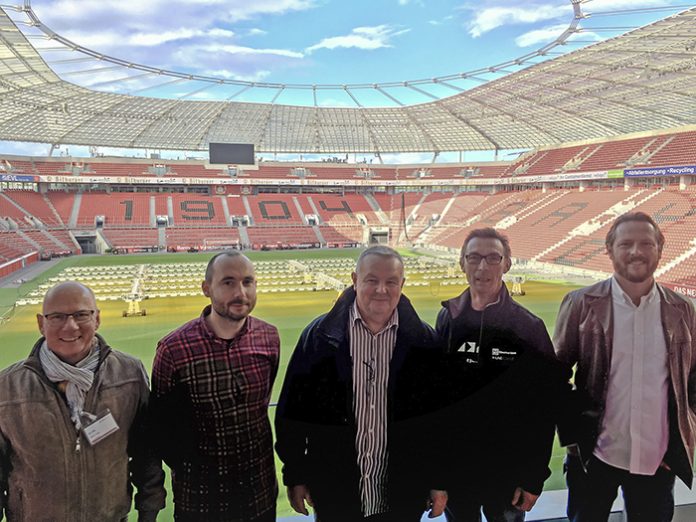 PBS Media solutions were recently called in to carry out a technical upgrade at the BayArena, home of the Bayer 04 Leverkusen Bundesliga team.
The upgrade required the stadium's outdated audio network to be modernized to enable high-quality audio streaming and complete remote monitoring with full redundancy, enhancing ease-of-use, overall system performance and reliability. In addition, the stadium technicians wanted a customized, graphical user interface for the studio control room to provide a better overview and ease of use.
Following a competitive tender process, BayArena's technical team opted for a network based on OMNEO IP technology to guarantee the best possible sound quality. Each of the four amplifier rooms, including the control room, has been networked via fast fibre-optic connections and equipped with two Electro-Voice N8000 digital audio matrix controllers, two Cisco switches, a total of 16 legacy amplifiers and new online uninterruptible power supply (UPS) units.
Peter Bürgel, from PBS Media solutions – a Leverkusen-based professional installation company – explains more about the project: "This upgrade offers significant advantages for the customer: The entire sound reinforcement system can now be monitored via IRIS-Net software; the sound quality has been significantly improved with the new, low-latency, high-quality Dante audio
signal; and full redundancy ensures that all functions are still available – even in the rare event of a device failure. In addition to the one-stop solution product portfolio, the stadium operators were also impressed by Electro-Voice's outstanding price/performance ratio."
A further addition to the control room inventory at the BayArena sees a new Touch-PC playing a key role in monitoring the system. The graphical user interface of the IRIS-Net software displays all zones as well as direct links to each individual device. This translates into maximum security and direct access at a glance. "If a device should go down, the software immediately displays the relevant area, and at the same time an acoustically unnoticeable switch to live operation is initiated," said Peter.
Though the installation effort was considerable – by switching from CobraNet to a digital OMNEO IP network with full Dante audio functionality, each amplifier hub needed to be rewired – it was well worth it. "The new network not only meets all the network requirements demanded today, it is equipped for future expansion in this area. It already provides the basis for OCA, AES 67 and AES 70, so the decision is also an investment in the future," noted Peter.