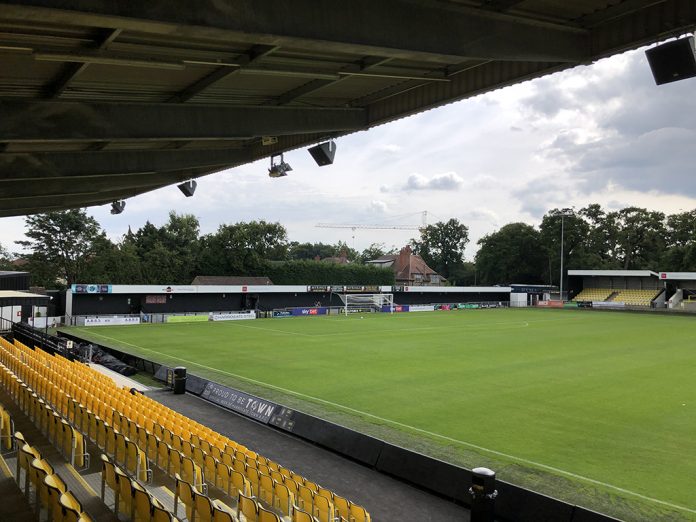 In August 2020, Harrogate Town FC were promoted to the English Football League (EFL) for the first time in their history thanks to a 3-1 victory over Notts County in the National League play-off Final at Wembley. With promotion came new responsibilities. The league's regulations precluded the use of the club's Wetherby Road (EnviroVent) stadium's synthetic pitch, and, as a narrow window of time did not allow the work on a replacement to be completed before the start of 2020/21 season, Harrogate Town arranged a temporary ground-share at Doncaster Rovers' Keepmoat Stadium. Comfortably maintaining their new league status during a season largely played in empty stadiums due to Covid-19 restrictions, the club, with work on a new grass pitches completed, prepared to return home.
Other EFL infrastructure criteria also had to be met at the EnviroVent, one of which was provision for a permanent public address system, which according to the League's regulations required '… adequate speaker output to relay information to all spectator areas, as required by the local authority, with the ability to interrupt for safety announcements from the stadium control room'. With the possibility of a future further development of its facilities, the club sought to install a high quality, future-proof system that could be expanded if required.
Sheffield-based technical services specialists, AVLS Technical, who had previously supplied temporary pre-match PA requirements on a hire basis, were engaged by the club to consult over the permanent installation. The club's plan at this stage was to upgrade audio provision in four of the ground's six distinct areas, and work with their existing set-up in the remaining two.
Read the full story in the latest issue of MONDO | STADIA.